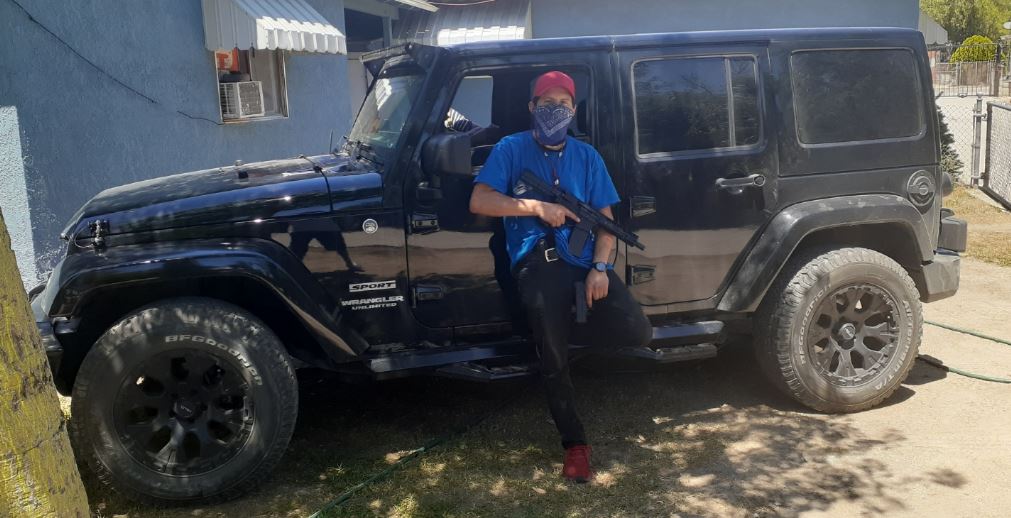 INCIDENT: Murder Investigation
LOCATION: 2300 block of Darby Street, Muscoy
VICTIM: Norberto Mendoza, 31 years old, resident of Pomona
SUSPECT: Miguel Triana-Morales, 36 years old, resident of Minnesota
5'7", 140 lbs., brown hair and brown eyes
SUSPECT VEHICLE: 2012 Jeep Wrangler Sport, black in color
Minnesota plates: 801RCD
Black aftermarket wheels and off-road style tires, steel side steps and a large light bar above the windshield
UPDATE – October 22, 2020
Following the shooting, Homicide Detectives received information that the suspect, Miguel Triana-Morales, fled the scene in his black 2012 Jeep Wrangler Sport and may have traveled into Mexico.
Triana-Morales has ties to California and Minnesota and is known to drive across the country frequently. He is considered armed and dangerous and detectives have obtained an arrest warrant for murder.
Detectives are releasing a photo (taken prior to the murder) of Triana-Morales standing near his Jeep Wrangler holding the handgun used in the murder, and a rifle. The rifle was recovered at the scene; the handgun has not been recovered.
**************************
SUMMARY:
On Saturday, August 8, 2020 at 2:25 p.m. deputies responded to calls of shots fired in the 2300 block of Darby Street. Deputies arrived and found the victim unresponsive in the driveway, suffering from obvious gunshot wounds. The victim was transported to Community Hospital where he was pronounced deceased at 3:25 p.m.
Detectives with the Specialized Investigations Division – Homicide Detail responded to conduct the investigation. Detectives contacted neighbors who said they heard the victim and suspect arguing and then shots fired.
The investigation is ongoing and anyone with information regarding the whereabouts of Miguel Triana-Morales is asked to contact Detective Simon Demuri, Specialized Investigations Division – Homicide Detail at (909)387-3589. Callers can remain anonymous and contact WeTip at 800-78CRIME or www.wetip.com.
Refer: Detective Simon Demuri or Sergeant Jon Woods
Station: Specialized Investigations Division – Homicide Detail
Phone No. (909)387-3589
Case No. DR#012002034 H#2020-079
JOHN McMAHON, Sheriff-Coroner San Bernardino County Sheriff-Coroner Department