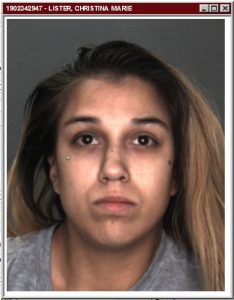 DATE/TIME: February 26, 2019/12:30 pm
INCIDENT: Human Trafficking of a Minor
LOCATION: 1400 Block of E. 4th St. Ontario, Ca
SUSPECT: Christina Lister, 27-year-old resident of Hemet
VICTIM: Confidential 15-year-old female victim
SUMMARY: St., City of Ontario. San Bernardino County Task Force members had been contacted by other investigators from the Orange County Human Trafficking Task Force, with information regarding a possible minor victim being Trafficked from that area. San Bernardino County Task Force members, began an investigation thOn Tuesday, February 26, 2019, at 12:30 pm, investigators from the San Bernardino County Human Trafficking Task Force, responded to a motel, located in the 1400 Block of E. 4th St. regarding the information they had received. During the investigation, Task Force members located an internet escort advertisement, believed to be advertising the victim for purposes of prostitution. An undercover operation was initiated by the San Bernardino County Task Force to contact and rescue the victim. During the operation, a second female was identified as possibly being involved with the victim. With the assistance of officers from the Ontario Police Department, Task Force members contacted and detained the minor victim as well as the second female, later identified as Christina Lister. Through continued investigation, Task Force investigators were able to determine the minor was a victim of the commercial sex industry, and was being actively Trafficked by the second female, Lister. Upon being rescued, the victim was transported by ambulance to a local hospital for evaluation and then safely released into the custody of the San Bernardino County Department of Family Services. The suspect, Christina Lister, was transported to the Rancho Cucamonga Police Department and interviewed by investigators. She was later arrested, transported and booked at the West Valley Detention Center for felony violations of Pandering and Human Trafficking of a Minor. She is being held in lieu of $150,000 bail.
The San Bernardino County Human Trafficking Task Force is made up of investigators from the San Bernardino County Sheriff's Department, San Bernardino County District Attorney's Office, San Bernardino Police Department, Ontario Police Department, Redlands Police Department, California State Parole, Office of Homeland Security and the Federal Bureau of Investigation.
This investigation is ongoing; investigators believe there are other unidentified victims related to this case and are asking that anyone with information related to this investigation, please contact the San Bernardino County Human Trafficking Task Force at (909) 387-8400. Anyone wishing to remain anonymous may contact We-Tip at 1-888-78-CRIME or you may leave information on the WE-Tip Hotline at www.wetip.com.
Refer: Sr. Inv. C. Miller and/or Dep. G. Deloria
Station: San Bernardino County Human Trafficking Task Force
Phone No. (909) 387-8400
Case No. 621900084
JOHN McMAHON, Sheriff-Coroner
San Bernardino County Sheriff-Coroner Department