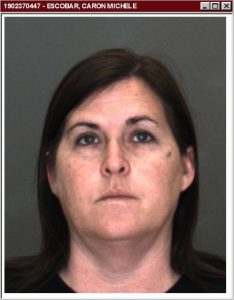 DATE/TIME: Wednesday, February 13, 2019
INCIDENT: PC 136.1(A)(1); Intimidation of witness/victim
PC 12022.1(b); Felony committed while released on bail
PC 166(A)(4); Contempt of court
LOCATION: Phelan
VICTIM: 16-year-old male
SUSPECT: Caron Michele Escobar, 44 years old, resident of Phelan
SUMMARY:
On Friday, March 2, 2018, Caron Michele Escobar was arrested for the sexual abuse of two male juveniles. At the time of the incidents, Escobar was employed with the Snowline Joint Unified School District as an Instructional Associate at Chaparral High School in Phelan. Detectives from the Crimes Against Children Detail assisted with the investigation. Shortly after her arrest, Escobar posted bail and was released from custody.
On Wednesday, February 6, 2019, detectives discovered information and evidence that Escobar contacted a victim. Details related to the communication are not being released.
On Wednesday, February 13, 2019, Escobar was arrested for PC 136.1(A)(1), and PC 12022.1(b) and PC 166(A)(4). She was booked at the High Desert Detention Center and bail was set at $1,000,000.
Detectives believe there may be additional witnesses and are releasing Escobar's booking photograph. Anyone with information is urged to contact the Specialized Investigation Division, Crimes Against Children Detail, Detective MJ Higgins (909) 387-3615. Callers wishing to remain anonymous are urged to call the We-Tip Hotline at 1-800-78-CRIME (27463).
Refer: Detective MJ Higgins, Crimes Against Children Detail
Station: Specialized Investigation Division
Case No. DR#601900016
Phone No. (909) 387-3615
John McMahon, Sheriff-Coroner
San Bernardino County Sheriff-Coroner Department