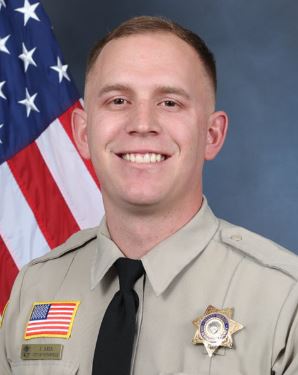 DATE/TIME: July 17, 2019 / 2:39 p.m.
INCIDENT: Man with a Gun / Assault with Deadly Weapon / Criminal Threats / Deputy-Involved Shooting
LOCATION: 15000 block of Seventh Street, Victorville
SUSPECT: Anthony Brown, age 54 a resident of Victorville
VICTIM: Confidential adult male
SUMMARY:
UPDATE: Thursday, July 18, 2019
The deputy injured in the deputy-involved shooting is Jason Aria. Deputy Aria was hired by the department in July of 2016 and assigned to the Victorville Police Department in October of 2017.
Deputy Aria is expected to make a full recovery. At this point in the investigation, detectives believe a ricocheted bullet fragment struck Deputy Aria. The investigation is continuing to determine the origin of the bullet.
Anthony Brown remains in the hospital and is expected to survive his injuries.
Anyone with information is urged to contact Detective James Tebbetts, Specialized Investigations Division – Homicide Detail at (909)387-3589 or Sheriff's dispatch at (760)956-5001. Callers can remain anonymous and contact WeTip at 800-78CRIME or www.wetip.com.
*************
On Wednesday, July 17, 2019, at 2:39 p.m., deputies responded to the report of a man with a gun at the Fix It Auto in the 15000 block of Seventh Street in Victorville. The victim called Sheriff's dispatch and reported that the suspect, later identified as Anthony Brown, went to the location and threatened to kill him and other citizens near the business. He further stated when he made contact with Brown at his vehicle, Brown brandished and racked a handgun at him. When deputies arrived at the location Brown was still inside his vehicle. A witness and victim advised deputies Brown was in possession of a handgun. Brown barricaded himself inside his vehicle. Deputies gave multiple PA announcements in an attempt to get Brown to peacefully surrender and exit his vehicle. Brown ignored their commands and yelled to deputies he was armed.
Deputies from the Specialized Enforcement Division (SED) responded to the location. At approximately 4:10 pm, Brown accelerated toward deputies and a deputy involved shooting occurred. Brown's vehicle stopped on the west side of Seventh Street after it collided into a wall. Brown continued to yell he was armed and refused to exit the vehicle and surrender. Deputies from SED blocked the vehicle and deployed less than lethal Blunt Impact Projectile rounds. Brown was eventually arrested at his vehicle without further incident. Brown was found to be in possession of two handguns on his person and an additional handgun was located inside his vehicle.
After Brown was removed from his vehicle, he was found to have injuries sustained during the deputy involved shooting. Deputies immediately initiated life-saving treatment to Brown's injuries until emergency medical personnel took over. Brown was flown to an area hospital and is expected to survive his injuries.
Investigators from the Specialized Investigations Division – Homicide Detail responded
to the location to conduct the investigation.
A deputy was injured during the deputy involved shooting and was airlifted to a hospital. He was treated and released and is expected to make a full recovery.
Refer: Sergeant Ryan Smith or Detective James Tebbetts
Station: Specialized Investigations Division – Homicide Detail
Phone No. (909) 387-3589
Case No. DR#171906205 DR#601900053 H#2019-061
JOHN McMAHON, Sheriff-Coroner
San Bernardino County Sheriff-Coroner Department