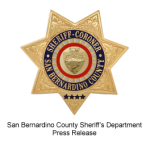 DATE/TIME:              Tuesday, August 7, 2018/11:43 pm
INCIDENT:                Assault with a Deadly Weapon/Robbery/Homicide
LOCATION:             Bear Valley Road and Fifth Avenue, Hesperia
SUSPECT:               Jose Dolores Ruvalcaba (deceased), age 45 a transient of Hesperia
VICTIMS:                   Three Victorville City Public Works employees – adult males
SUMMARY:
On Tuesday, August 7th, at approximately 11:43 pm, deputies from the Hesperia and Victorville City Police Departments responded to the area of Bear Valley Road and Fifth Avenue, following the report of an assault.  Upon arrival, deputies were advised that three city employees were in the area working when they were approached by a man, later identified as Jose Dolores Ruvalcaba.  Ruvalcaba approached the men as they were painting lines on the roadway and assaulted them.  Ruvalcaba chased the workers with an unknown object in his hand and claimed he was going to kill them. Workers believed Ruvalcaba was armed as he chased them and feared for their safety.  As Ruvalcaba chased the workers, he attempted to steal their truck.  Fearing for their safety, and to prevent further assault, one of the men struck Ruvalcaba once with a shovel.  Ruvalcaba was injured and transported by medical personnel to a local area hospital.  On Tuesday, August 13th, Ruvalcaba was pronounced deceased at the hospital.
Investigators from the Specialized Investigations Division are conducting the investigation.  Upon completion, the report will be submitted to the District Attorney's Office for review.
Updates will be provided when additional information is available for release.
Anyone with information related to this investigation is urged to contact Detective James Tebbetts of the Specialized Investigations Division-Homicide Detail at (909)387-3589. Callers can remain anonymous and contact We-Tip at (800)78-CRIME or www.wetip.com.
Refer:             Detective James Tebbetts or Sergeant Ryan Smith
Station:          Specialized Investigations Division – Homicide Detail
Phone No.     (909)387-3589
Case No.       DR#191806281        H#2018-074
JOHN McMAHON, Sheriff-Coroner
San Bernardino County Sheriff-Coroner Department