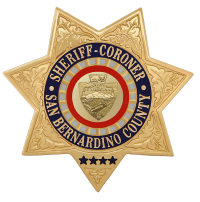 San Bernardino County Sheriff's Department
Press Release
DATE/TIME: April 17, 2018 / 7:47 Hours****UPDATED APRIL 18, 2018 / 11:30 pm
INCIDENT: Fatal Hit and Run Traffic Collision
LOCATION: Main Street x Balsam Avenue, Hesperia
SUSPECT(S): UPDATE:ALONSO REGALADO, 21 YEAR OLD MALE, CITY OF PERRIS
(Suspect Vehicle, Recovered / Silver 2001 Ford Expedition With Major Front End Damage)
VICTIM(S): Deborah J. Marshall, age 61 a resident of Hesperia
Summary
UPDATE: As a result of the ongoing investigation, evidence recovered at the scene and witness interviews, investigators from the Hesperia Station identified the driver involved in this collision as Alonso Regalado. A warrant for Regalado's arrest was issued for Vehicular Manslaughter and Felony, Hit and Run.
On April 18, 2018, at about 8:00 pm, with the assistance of the Sheriff's Specialized Enforcement Division, Regalado was taken into custody without incident at a residence in Victorville. Regalado was later booked at the High Desert Detention Center for the above charges.
*****
On April 17, 2018, at about 7:47 am, Deputies from the Hesperia Station, along with rescue personnel from the San Bernardino County Fire Department, responded to a reported vehicle vs pedestrian traffic collision on Main Street near the intersection of Balsam Avenue. Upon arrival, first responders found a female down in the roadway suffering from major injuries as a result of the collision. Despite efforts from rescue personnel, the 61 year old female was pronounced deceased at the scene. The driver of the vehicle involved in the collision fled the scene immediately, however witnesses were able to provide responding units with a description and direction of travel. Deputies searching the area located an unoccupied, silver in color, 2001 Ford Expedition abandoned in the desert off Topaz Avenue, north of Live Oak Street, several miles from the collision scene.The vehicle was determined to have been involved and an extensive search of the area for the driver was conducted, including the use of a Sheriff's tracking K-9 along with Sheriff's Aviation. Despite the search, the driver was not located near the scene.
Hesperia Station's Major Accident Investigation Team members along with Detectives from the Hesperia Station are continuing the investigation to locate the driver of the suspect vehicle and the investigation is ongoing. Investigators have been able to determine that for reasons unknown, the suspect was traveling west on Main Street when the vehicle left the roadway over the curbing and was traveling down the dirt shoulder. The victim was in front of a residence at the location and was struck by the vehicle as it passed. The vehicle then re-entered the roadway just east of Balsam Avenue and continued west without stopping. Investigators believe there are witnesses to the collision or witnesses who may have seen the badly damaged vehicle fleeing the scene, and anyone who may have information on the collision or suspect driver, is asked to contact Deputy Scott LaFond or Sergeant Doug Hubbard with the Hesperia Station.
Main Street was closed in both directions until about 1:00 pm while investigators processed the scene for evidence and conducted their investigation.
Refer:Doug Hubbard, Sergeant
Station: Hesperia
Phone No.760 947-1500
Case No.191803115
John McMahon, Sheriff-Coroner
San Bernardino County Sheriff-Coroner Department
Sheriff's Public Affairs Division
655 E. Third Street
San Bernardino, California 92415-0061
Telephone: (909) 387-3700