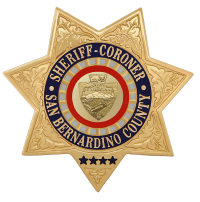 San Bernardino County Sheriff's Department
Press Release
DATE/TIME: Friday, April 6, 2018 / 4:52 a.m.
INCIDENT:PC 245(A)(1) Assault with Deadly Weapon, PC 246.3 Negligent Discharge of Firearm
LOCATION: 26000 block of 9Th Street, Highland
SUSPECT(S): Alberto Soto, a 27-year-old male resident of Highland
VICTIM(S): 25-year-old female resident of Highland
Summary
On April 6, 2018, at approximately 4:55 a.m., deputies responded to the area of the 26000 block of 9th Street for a report of an assault. The victim reported she had been assaulted by the suspect, who was identified as Alberto Soto. During the investigation, deputies determined the victim and Soto were involved in an argument.During the argument, Soto reportedly produced a handgun and discharged several rounds, including one round near the area the victim was standing.Several rounds struck the victim's vehicle. No one was injured during the incident. Soto fled the area before deputies arrived on the scene.
As a result of the investigation, Deputy Anagnostopoulos authored a Ramey warrant for Soto's arrest. On Tuesday, April 10, 2018, at approximately 8:00 p.m., officers with the Downey Police Department made contact with Soto. Highland deputies responded to the city of Downey and took Soto into custody. During the investigation, Soto was also found to be out on bail for a prior domestic charge. Soto was arrested and booked into the Central Detention Center for PC 245(A)(1) and PC 246.3, with a bail amount of $50,000.00.
Anyone with information regarding this investigation is urged to contact Highland Police/Sheriff at (909) 425-9793.Callers wishing to remain anonymous are urged to call the We-tip Hotline at 1-800-78-CRIME (27463), or you may leave information on the We-Tip Hotline at www.wetip.com.
Refer:Deputy Anagnostopoulos
Station:Highland
Case #: 131801394
Phone No. (909)425-9793
John McMahon, Sheriff-Coroner
San Bernardino County Sheriff-Coroner Department
Sheriff's Public Affairs Division
655 E. Third Street
San Bernardino, California 92415-0061
Telephone: (909) 387-3700