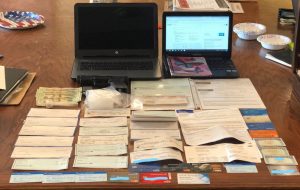 DATE/TIME: June 14, 2018, 1:00 p.m.
INCIDENT: Identity Theft / Forgery / Conspiracy / Resisting Arrest
LOCATION: 2500 Block of Christine St. and 1500 Block of Toluca Dr., San Bernardino
SUSPECT(S): Marc Gosney, 29 years old, resident of San Bernardino
Melina Hatzidaks, 32 years old, resident of San Bernardino
VICTIM(S): Multiple
SUMMARY:
On June 14, 2018 at 1:00 p.m. Highland deputies served a search warrant at an address on Christine Street and evidence of identity theft was recovered. Identification cards, Social Security cards, checks and other instruments of fraud and identity theft were located.
The investigation lead deputies to a residence located on Toluca Drive, where they made contact with the suspects in the case, Gosney and Hatzidaks. As deputies approached the residence Gosney, who already had a no bail warrant for his arrest for violation of his PRCS Probation terms, fled from the rear of the residence. Gosney was found by deputies a short time later hiding in garage in an unrelated apartment complex on Marshall Blvd. Hatzidakis was arrested at the Toluca Drive residence without any incident.
Gosney and Hatzidakis were booked at the Central Detention Center for identity theft and other related charges. Gosney is being held without bail. Hatzidakis' bail was set for $50,000. The case will be submitted to the District Attorney's Office for Prosecution.
Refer: Deputy Anagnostopoulos
Station: Highland
Phone No. (909) 425-9793
Case No. 131802576
JOHN McMAHON, Sheriff-Coroner
San Bernardino County Sheriff-Coroner Department