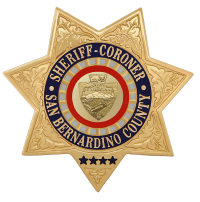 San Bernardino County Sheriff's Department
Press Release
DATE/TIME: Tuesday, April 10, 2018 / 7:00 p.m.
INCIDENT: Missing Person – Adult
LOCATION: 7400 Block of Sequoia Lane, Highland
MISSING PERSON: Jacob Bolter, 23 years old, 5'10", 160 lbs., long brown hair and facial hair
Wearing black shorts, white t-shirt and carrying a black back pack
Summary
The Highland Police Department is asking for the public's assistance to locate 23-year old Jacob Bolter, who was reported missing from his family's residence in Highland. He was last seen on April 10, 2018 at about 7:00 p.m.
Bolter frequents the hiking trails in East Highlands Ranch and the foothills near Plunge Creek. He may be wearing black shorts, white T-shirt and carrying a black back pack.
He is described as a white male, 5-10, 160 lbs., long brown hair and facial hair.
Anyone with information regarding the whereabouts of Jacob Bolter should contact the Highland Police Department at (909) 425-9793 or Sheriff's Dispatch at (909) 387-8313.
Refer: Highland Police
DR #: 131801501
Phone No. (909) 425-9793
John McMahon, Sheriff-Coroner
San Bernardino County Sheriff-Coroner Department
Sheriff's Public Affairs Division
655 E. Third Street
San Bernardino, California 92415-0061
Telephone: (909) 387-3700