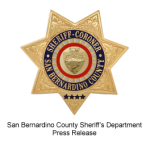 DATE/TIME: August 17, 2018, at approximately 2:04 a.m.
INCIDENT: Possession of stolen property
LOCATION: Greenspot Road and San Benito Street, Highland
SUSPECT(S): Brandon Lovett, 26 year old resident of Highland
Chelsey Fisk, 26 year old resident of Highland
Daniel Delara, 37 year old, resident of Hesperia
VICTIM(S): Multiple Victims
SUMMARY: On 08/16/18, Highland Station personnel began investigating a mail theft.  Investigators were able to identify a suspect's vehicle after reviewing surveillance video.  On 08/17/18,  Deputy Moreno conducted a traffic stop of a vehicle matching the description of the vehicle seen in the video surveillance.
The vehicle was driven by Brandon Lovett, Chelsey Fisk and Daniel Delara were also in the vehicle. When Moreno searched the vehicle she found stolen mail from multiple jurisdictions. The occupants were arrested, interviewed and booked at the Central Detention Center for violation of PC496, possession of stolen property and for violation of PC530.5(c)(3), committing mail theft.
On 8/22/18, Detectives served a search warrant in the 17800 block of Bascom Street in Hesperia and possibly identified 94 victims of mail fraud.
Anyone with any further information regarding this case is encouraged to contact a Highland Police Station at (909) 425-9793.
Refer:                   Deputy D. Moreno, Detective W. Hogan
Station:                Highland
Phone No.           (909) 425-9793
Case No.              131803795
JOHN McMAHON, Sheriff-Coroner
San Bernardino County Sheriff-Coroner Department