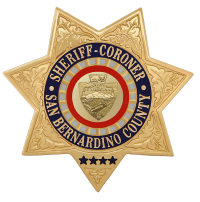 San Bernardino County Sheriff's Department
Press Release
DATE/TIME: Monday April 16, 2018 at approximately 9:16 pm
INCIDENT: Shooting at an Inhabited Dwelling and Convicted Felon in Possession of a Firearm
LOCATION: 25900 block of Baseline Street in the City of Highland
SUSPECT(S): Brian Patton, 31, a resident of Highland
VICTIM(S): Confidential
Summary
On Monday, April 16th, at approximately 9:16 pm, deputies from the Highland Station, along with Sheriff's Aviation and Central Station Deputies, reponded to several 911 calls reference a man shooting a rifle inside of an apartment complex. Deputies found Patton while he was walking out of the complex and wearing the same clothing as the callers had advised the shooter was wearing. During the investigation it was learned Patton fired an AR-15 style rifle at an apartment complex across the street and stashed the rifle in the trunk of a nearby vehicle. While deputies were investigating the scene, a victim called 911 to report a bullet came through a bedroom wall of her apartment. No persons were injured as a result of this incident.
The motive for the shooting is still unknown. Patton was found to be a convicted felon and not allowed to possess a firearm. Brian Patton was arrested and booked into the West Valley Detention Center and is being held on $250,000 bail.
Anyone with information on this case is asked to contact Deputy M. Kassis of the Highland Police Department at (909) 425-9793. Callers wishing to remain anonymous are urged to call the We-Tip Hotline at 1-800-78CRIME (27436) or you may leave information on the We-Tip website at www.wetip.com.
Refer:Deputy M. Kassis
Station:Highland Station
Phone No. (909) 425-9793
Case No. 131801571
John McMahon, Sheriff-Coroner
San Bernardino County Sheriff-Coroner Department
Sheriff's Public Affairs Division
655 E. Third Street
San Bernardino, California 92415-0061
Telephone: (909) 387-3700