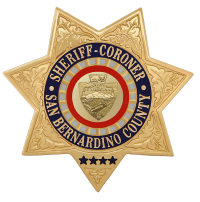 San Bernardino County Sheriff's Department
Press Release
DATE/TIME: April 26, 2018/ 5:03 p.m.
INCIDENT: PC 496d(a)- Possession of a Stolen Vehicle
LOCATION: 56000 block of Lum Lane, Landers
SUSPECT(S): William Alvin Gaines, 32-year-old resident of Landers
VICTIM(S): Confidential
Summary
On Thursday, April 26, 2018, at 5:03 p.m., deputies from the Morongo Basin Station conducted a traffic stop on a man riding a Suzuki dirt bike westbound on Linn Rd east of Highway 247 for not wearing a helmet. Deputies discovered the dirt bike was stolen. The man riding the dirt bike was also on formal felony probation. William Gaines arrived at the traffic stop and was detained for providing a false bill of sale for the dirt bike.
Deputies responded to the 56000 block of Lum Lane to conduct a probation search of the dirt bike rider's residence. While on the property, deputies located a stolen Yamaha four-wheeler. Gaines was linked to both stolen motorcycles. He was arrested and booked into the Morongo Basin Jail for possession of a stolen vehicle in lieu of $50,000 bail.
Anyone with information related to the investigation is asked to contact the Morongo Basin Station at (760) 366-4175. Anyone wishing to remain anonymous may contact We-Tip at 1-888-78-CRIME.
Refer:Deputy R. Stucki/ Deputy J. Perez
Station:Morongo Basin Station
Phone No.760-366-4175
Case No.091800590
John McMahon, Sheriff-Coroner
San Bernardino County Sheriff-Coroner Department
Sheriff's Public Affairs Division
655 E. Third Street
San Bernardino, California 92415-0061
Telephone: (909) 387-3700