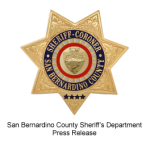 DATE/TIME: August 20, 2018       8:30 a.m.
INCIDENT:    Felony Vandalism
LOCATION:   73000 block of Twentynine Palms Highway, Twentynine Palms
SUSPECT:    Frank Lee Willis Jr, 19 years old, resident of Wonder Valley
SUMMARY:
On Monday, August 20th at approximately 8:30 a.m., Deputies Ryan Arthurton and Johnathan Holt responded to the 73000 block of Twentynine Palms Highway reference a report of vandalism. Deputies reviewed surveillance footage and immediately identified the suspect as Frank Lee Willis Jr. of Wonder Valley.
On Sunday, August 19, 2018, Willis entered the Twentynine Palms Ram Truck dealership by smashing the glass exterior door. Once inside, Willis, began to rearrange furniture and accessed a display vehicle that was parked in the lobby. Willis then used a spray paint can and painted "Willis" inside the business. Willis left the business, approached a Dodge Durango that was parked on the car lot and smashed the exterior driver's side window. After Willis caused approximately $3,100. dollars in damages, he fled the business.
On Monday, August 20th, deputies Robert Stucki and Jeff Sumpter, who are assigned to the Multiple Enforcement Team in Yucca Valley, located Frank Willis inside the Yucca Valley Walmart store. Stucki and Sumpter apprehended Willis without incident inside the store.
Frank Lee Willis Jr was arrested and booked at Morongo Jail for violation of California Penal Code 594(b)1, Felony Vandalism and bail was set at $25,000.00.
Anyone with information related to the investigation is asked to contact Deputy R. Arthurton or Johnathan Holt with the San Bernardino County Sheriff's Department Morongo Basin Station at (760)366-4175. Anyone wishing to remain anonymous may contact We-Tip at 1-888-78-CRIME.
Refer:             Deputy R. Arthurton, Deputy Johnathan Holt
Station:          Morongo Basin Station
Case #:          201801203
Phone No.     (760) 366-4175
JOHN McMAHON, Sheriff-Coroner
San Bernardino County Sheriff-Coroner Department