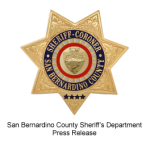 DATE/TIME: August 20th, 2018/ 07:54 AM
INCIDENT: PC 273A(A)- Child Endangerment
LOCATION: 1900 block of Clary Dr., Needles
SUSPECT(S):  Daniel Anderson, age 32 a resident of Needles
VICTIM(S): Confidential
SUMMARY:  On August 20th, 2018, deputies from the Colorado River Station/Needles Police Department were dispatched to the 1900 block of Clary Dr., in Needles, reference a found child. The reporting party found a 2 year old child walking around an apartment complex with no supervision or parents around. Deputies went to an apartment at the complex where they located the father, Daniel Anderson, sleeping on the couch with the front door wide open. Anderson was found to be under the influence of a controlled substance. Methamphetamine was found inside of the residence where the children had access to it. The child was released to the mother and CPS was notified. Anderson was transported and booked into the Needles Jail where he is being held pending a court hearing with a $100,000 bond. 
This investigation is ongoing and anyone with additional information is encouraged to contact Deputy Deruiter of the Colorado River Station/Needles Police Department located at 1111 Bailey Ave or call (760) 326-9200. Those wishing to remain annonymous call the WeTip Hotline at (800) 78-CRIME (27463) or leave information online at www.wetip.com. 
For press releases, news, and information follow the Colorado River Station Twitter at: @CORiverStation.
Refer:                     Deputy Deruiter
Station:                  Colorado River Station
Phone No.             760-326-9200
Case No.                211800850
JOHN McMAHON, Sheriff-Coroner
San Bernardino County Sheriff-Coroner Department