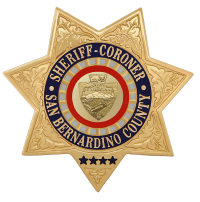 San Bernardino County Sheriff's Department
Press Release
DATE/TIME: January 2, 2018/2:35p.m.
INCIDENT: Possession of Stolen Property
LOCATION: 2000 Block of Rio Vista Street, Needles
SUSPECT: Antoine Jonhnson, 47 years old, resident of Needles
Summary
On December 19, 2017, deputies from the Colorado River Station/ Needles Police Department developed information on the whereabouts of a stolen flatbed automobile trailer. The investigation led deputies to a home in the 2000 block of Rio Vista Street in Needles. Both residents of the home were on felony probabation. During a probation search of the residence, the trailer was located in the backyard with the VIN number removed and adorned with a stolen California license plate. Upon further investigation, two unreported stolen Yamaha ATVs were also located on Johnson's property. All the vehicles were stolen from Apple Valley.
UPDATE:
On January 2, 2018, at 2:35 p.m., Antoine Johnson, a resident of the home on Rio Vista Street, was contacted, interviewed and subsequently arrested. Johnson was transported to the Needles jail where he was booked for possession of stolen property with a bail of $50,000.00
Anyone with information regarding this case is urged to contact Deputy Isaac Vega or Detective Nick Caronna at the Colorado River Station/Needles Police Department at (760) 326-9200. Those wishing to remain anonymous can call the We-Tip Hotline at 1-800-78-CRIME(27463) or you may leave information online at www.wetip.com.
For press releases, news, and information follow the Colorado River Station on Twitter at: CORiverStation
Refer: Deputy Isaac Vega or Detective Nick Caronna
Station: Colorado River Station/ Needles Police Department
Phone No. 760-326-9200
Case No. 211701283
John McMahon, Sheriff-Coroner
San Bernardino County Sheriff-Coroner Department
Sheriff's Public Affairs Division
655 E. Third Street
San Bernardino, California 92415-0061
Telephone: (909) 387-3700