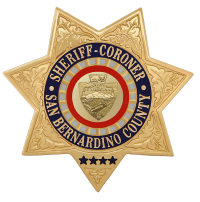 San Bernardino County Sheriff's Department
Press Release
DATE/TIME: Tuesday, May 12, 2015 9:30 p.m.
INCIDENT: Homicide Investigation
LOCATION: 13700 block of Brynwood Street, Victorville
VICTIM: Antione Smith, age 35, of Victorville
SUSPECT: Leticia Smith (wife of victim), age 33, of Victorville
On Tuesday, May 12, 2015, at approximately 9:30 p.m., deputies from the Victorville Police Department went to a residence in the 13700 block of Brynwood Street to conduct a welfare check on the victim, Antione Smith. Mr. Smith had missed several days of work and had not been seen or heard from by co-workers or friends. Deputies located Antione Smith deceased inside a bedroom of the residence.
Investigators from the San Bernardino County Sheriff's Department Homicide Detail responded to the location to conduct the investigation. Investigators determined that Mr. Smith was the victim of a Homicide.
Through investigation, investigators have identified, Leticia Smith as the suspect responsible for the murder of Antione. An arrest warrant has been issued for Leticia Smith.
Leticia Smith fled the residence with her two children, 8 year old Isabel and 4 year old Abigail. Investigators believe that she is driving a 2010 Silver Honda Accord, 4 door, CA license plate 7FBT742. Anyone with information regarding the whereabouts of Leticia Smith and her two children are urged to immediately call 911 or Sheriff's Dispatch at (760) 956-5001.
Photos:
Suspect Leticia Smith      Suspect and Children      Isabell Smith      Abigail Smith
Anyone with information regarding this investigation is urged to contact Detective Tina Kirby or Sergeant Jason Radeleff of the Sheriff's Homicide Detail at (909)387-3589. Callers wishing to remain anonymous are urged to call the We-Tip Hotline at 1-800-78-CRIME (27463) or you may leave information on the We-Tip website at www.wetip.com.
Refer: Sergeant Jason Radeleff or Detective Tina Kirby
Station: Specialized Investigations Division- Homicide Detail
Phone No. (909)387-3589
Case No. DR# 171505525 H#2015-41
John McMahon, Sheriff-Coroner
San Bernardino County Sheriff-Coroner Department
Sheriff's Public Affairs Division
655 E. Third Street
San Bernardino, California 92415-0061
Telephone: (909) 387-3700