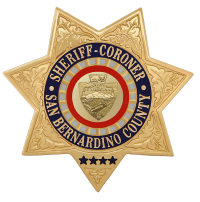 San Bernardino County Sheriff's Department
Press Release
DATE/TIME: 06/19/17 / 1028 HOURS.
INCIDENT: PC 273a(a) CRUELTY TO CHILD / PC597(b) ANIMAL CRUELTY
LOCATION: 5000 BLOCK OF HALSEY AVENUE. 29 PALMS
SUSPECT(S): MCCOURT, NATALYA, 27-YEAR-OLD, 29 PALMS
VICTIM(S): CONFIDENTIAL
Summary
On June 19, 2017, at approximately 10:28 am, deputies from the Morongo Sheriff's Station were dispatched to the 5000 block of Halsey Avenue to assist Animal Control. Animal Control officers were at the location in response to reports of dogs left outside in the heat with no access to water or shade. The approximate ground temperature was estimated at 145 degrees.
Upon arrival, deputies observed a female juvenile, approximately seven years of age, inside the residence. Despite Animal Control Officers' and deputies knocking on the door for several minutes, deputies were unable to contact the parents of the juvenile. Deputies entered the unlocked residence to check on the welfare of the juvenile. Inside the residence, deputies located Natalya McCourt, the children's mother, asleep in her room and observed a child's arm reaching under the door of a hallway bedroom. Deputies located two male juveniles', ages 6 and 3, in the bedroom. The 6-year-old juvenile was autistic.
The door to the boys' bedroom was found to be locked from the outside, and the boys were locked inside without access to water or restrooms. Natalya McCourt was subsequently arrested, transported and booked into the Morongo Jail for felony child cruelty and felony animal neglect.
Refer: Deputy J. Arden
Station: Morongo Basin Station
Phone No. 760-366-4175
Case No. 201700784
John McMahon, Sheriff-Coroner
San Bernardino County Sheriff-Coroner Department
Sheriff's Public Affairs Division
655 E. Third Street
San Bernardino, California 92415-0061
Telephone: (909) 387-3700