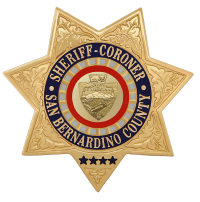 San Bernardino County Sheriff's Department
Press Release
DATE/TIME: Thursday, April 20, 2017 9:39 pm to 10:29 pm
INCIDENT: Grand Theft
LOCATION: Maverick Stadium Rodeo Grounds, 12000 Stadium Way, Adelanto
SUSPECT(S): Unknown Hispanic male adult, approximatelymid-thirty's, approximately 5'8″, medium build, dark hair; wearing jeans, light colored pullover sweatshirt and dark colored "Emerica" skate shoes.
Unknown Hispanic female adult, approximately 30's, approximately 5'2″, heavy build, glasses; wearing leggings, "Cali" sweatshirt and Vans shoes
Summary
On Thursday night, April 20th, between 9:39 pm and 10:29 pm an unknown Hispanic male adult and unknown Hispanic female adult dismantled approximately 21 galvanized coral panels at the Maverick Stadium Rodeo Grounds. They loaded the panels onto a two axle trailer and left the location with the panels. The value of 21 panels is estimated at $9000. The truck is possibly a crew cab Chevrolet Silverado.
For photos click on:   
www.nixle.us/9B6CT
Refer:Det. M. Browne
Station:Adelanto
Phone No.760-552-6800
Case No.241701026
John McMahon, Sheriff-Coroner
San Bernardino County Sheriff-Coroner Department
Sheriff's Public Affairs Division
655 E. Third Street
San Bernardino, California 92415-0061
Telephone: (909) 387-3700