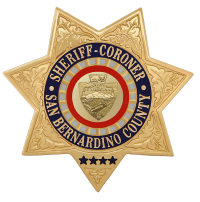 San Bernardino County Sheriff's Department
Press Release
DATE/TIME OF RELEASE: January 6, 2016 at 7:45pm
INCIDENT: Kidnapping
LOCATION:12000 block of Chamberlaine Way, Adelanto
SUSPECT(S): Marcus Gilmore, age 41 of Adelanto
Summary
On Thursday, January 5, 2017, at approximately 9:20pm, Deputies from the Victor Valley Sheriff Station responded to a residence in the 12000 block of Chamberlaine Way for a disturbance involving juveniles. Upon investigation, it was learned Marcus Gilmore believed his home was being broken into by some juveniles.
After speaking with some neighbors in the area, deputies located a juvenile victim inside Gilmore's residence, who explained Gilmore held him at gun point and threatened to shoot him. The victim was allegedly forced into the residence by Gilmore and told to lie to deputies about what took place. Gilmore was found to have a felony warrant for his arrest regarding a perjury case from San Bernardino Superior Court and is a convicted felon. Deputies served a search warrant at Gilmore's residence and recovered two loaded pistols and evidence corroborating gathered statements. Gilmore was booked into High Desert Detention Center for kidnapping and his warrant. He is being held on $250,000.00 bail, awaiting arraignment.
Citizen's are encouraged to report suspicious and criminal activity to their local Sheriff Station, 1-800-78-CRIME, or www.wetip.com and can remain anonymous.
Refer: Staci Parks
Case #: 241700044
Station: Victor Valley
Phone No: 760-552-6845
JOHN MCMAHON, Sheriff-Coroner
San Bernardino County Sheriff-Coroner Department
John McMahon, Sheriff-Coroner
San Bernardino County Sheriff-Coroner Department
Sheriff's Public Affairs Division
655 E. Third Street
San Bernardino, California 92415-0061
Telephone: (909) 387-3700