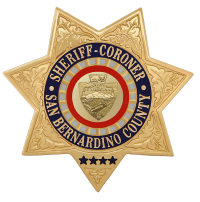 San Bernardino County Sheriff's Department
Press Release
DATE/TIME:Monday, January 9, 2017/1:00 p.m.
INCIDENT: Death Investigation – Updated Information
LOCATION: Apple Valley Road and Wato Road, Apple Valley
VICTIM: Donald Raiser, Caucasian male, 48 years old (at time of death)
Summary
On Sunday, January 1, 2017, at approximately 3:55 p.m., deputies from the Apple Valley Police Department responded to the area of Apple Valley Road and Wato Road following the report of a found bone. Upon arrival, deputies spoke to the hikers that located the bone. A photo of the bone was sent to the Coroner's Division to determine if it was human. A short time later, the Coroner Investigator notified deputies on scene that the bone was a human mandible.
The mandible has been identified to Donald Raiser.
On August 16, 1998, Raiser was reported as a missing person (DR#189804951). On January 28, 1999, October 21, 2001, human remains were located at the dirt extension road of Apple Valley Road and Ohna Road, Apple Valley. Detectives from the Homicide Detail responded and conducted a death investigation. The remains were identified to Raiser.
The mandible was approximately ¼ mile away from the remains that were located in 1999 and 2001.
To date, Raiser's cause of death remains unknown.
Anyone with information is urged to contact Detective Mike Cleary or Sergeant Greg Myler of the Specialized Investigations Division (909) 387-3589. Callers wishing to remain anonymous are urged to call the We-Tip Hotline at 1-800-78-CRIME (27463) or the We-Tip website at www.wetip.com
Refer: Detective Mike Cleary or Sergeant Greg Myler
Station: Specialized Investigations Division
Phone No.: (909) 387-3589
Case No.: H# 2017-001/181700015
John McMahon, Sheriff-Coroner
San Bernardino County Sheriff-Coroner Department
Sheriff's Public Affairs Division
655 E. Third Street
San Bernardino, California 92415-0061
Telephone: (909) 387-3700