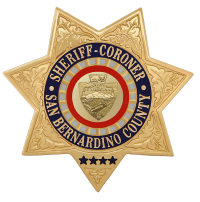 San Bernardino County Sheriff's Department
Press Release
DATE/TIME: Thursday, January 5, 2017, at 4:59 p.m.
INCIDENT: Homicide Investigation
LOCATION: 13000 block of Navajo Road, Apple Valley
VICTIM:Dominic Nunn (Deceased), age 8, a resident of Apple Valley
SUSPECT:Shakir Nunn, age 38, a resident of Apple Valley
Summary
On Thursday, January 5, 2017, at approximately 4:59 p.m., deputies from the Apple Valley Station and medical aid responded to a residence in the 13000 block of Navajo Road in Apple Valley following a 911 call of a child not breathing. Deputies and paramedics arrived at the home where they discovered eight (8) year old Dominic Nunn unresponsive inside the residence. CPR was performed and Dominic was transported to Desert Valley Hospital. Despite lifesaving measures, Dominic was pronounced deceased at 7:28 p.m.
Detectives from the San Bernardino County Sheriff's Department, Specialized Investigations Division, Crimes Against Children and Homicide Details were summoned and are conducting the investigation. Detectives determined Dominic's father, Shakir Nunn, was responsible for Dominic's death. Shakir was arrested during the early morning hours of Friday, January 6, 2017 and booked into High Desert Detention Center for Murder.
San Bernardino County Children and Family Services responded to assist and took custody of the other juveniles in the home.
Dominic's mother was determined to be out of the area at the time of the incident and there is no evidence to suggest she was involved in the crime.
Anyone with information regarding this incident is urged to contact Detective Scott Stafford or Sergeant Robert Warrick at (909)387-3589. Callers wishing to remain anonymous are urged to call the We-tip Hotline at 1-800-78-CRIME (27463) or you may leave information on the We-Tip website at www.wetip.com.
Refer: Detective Scott Stafford or Sergeant Robert Warrick
Station:Specialized Investigations Division – Homicide Detail
Phone No. (909) 387-3589
Case No. DR #181700101 H #2017-02
John McMahon, Sheriff-Coroner
San Bernardino County Sheriff-Coroner Department
John McMahon, Sheriff-Coroner
San Bernardino County Sheriff-Coroner Department
Sheriff's Public Affairs Division
655 E. Third Street
San Bernardino, California 92415-0061
Telephone: (909) 387-3700