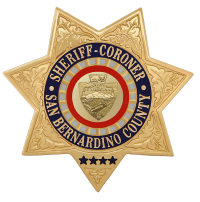 San Bernardino County Sheriff's Department
Press Release
DATE/TIME: January 29, 2017/11:23 a.m.
INCIDENT: Major Injury Traffic Collision
LOCATION: Bear Valley Road / Locust Lane in Apple Valley
DRIVER 1: Judith Harrison, age 64 a resident of Grand Terrace
VEHICLE 1: 1997 Chevrolet Blazer
DRIVER 2: Walter Reddington, age 35 a resident of Big Bear City
VEHICLE 2: 2007 Chevrolet 1500
Summary
On Sunday, January 29th, 2017 at approximately 11:23 am, deputies from the Apple Valley Police Station responded to a report of a major injury traffic collision. When deputies arrived on the scene, they determined Judith Harrison was driving northbound on Locust Lane in a 1997 Chevrolet Blazer, approaching the intersection with Bear Valley Road. Harrison attempted to make a left turn onto westbound Bear Valley Road and stopped in eastbound lanes of Bear Valley Road for an unknown reason.
Harrison's vehicle was struck by Walter Reddington who was driving a 2007 Chevrolet 1500 eastbound on Bear Valley Road. Harrison was flown to a local hospital for her injuries. Reddington was treated at the scene for his injuries. Bear Valley Road from Cottontail Lane to Westmont Road was closed for several hours while deputies conducted the investigation.
The collision is currently under investigation by the San Bernardino County Sheriff's Department in Apple Valley. Anyone with information is encouraged to contact Deputy Cullum at 760-240-7400.
Refer: Trish Hill, Public Information Officer
Station: Apple Valley
Case #: 181700582
Phone No. 760-240-7400
JOHN MCMAHON, Sheriff-Coroner
San Bernardino County Sheriff-Coroner Department
John McMahon, Sheriff-Coroner
San Bernardino County Sheriff-Coroner Department
Sheriff's Public Affairs Division
655 E. Third Street
San Bernardino, California 92415-0061
Telephone: (909) 387-3700