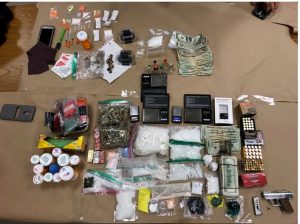 DATE/TIME: July 25, 2018 / 5:45 p.m.
INCIDENT: Narcotics Investigation / Arrest
LOCATION: 21700 block Ponache Road, Apple Valley
SUSPECT(S): Steven Reynolds, 55 year old male, resident of Apple Valley
Shirley Ulrich, 36 year old female, resident of Apple Valley
SUMMARY:
On July 25, 2018, at approximately 5:45 p.m., Deputies Walsh and Flores from the Apple Valley Station – Gang Team conducted a narcotics investigation in the area of Navajo Road and Panoche Road. They stopped a vehicle in which Shirley Ulrich was riding. She was found in possession of over two ounces of methamphetamine, numerous controlled substances including OxyContin, Fentanyl patches, Hydrocodone, and Morphine. Ulrich was also in possession of nearly a dozen vials of controlled substances including Ketamine and Epinephrine. She had a large sum of cash, which coupled with the narcotics and prescription drugs, led the deputies to believe she was engaged in the sale and transportation of narcotics.
Deputies and detectives obtained a search warrant for a house associated to Shirley Ulrich. During the warrant, they contacted the resident Steven Reynolds. Reynolds is a convicted felon and was found with loaded handgun concealed in his shorts pocket. The search of the residence resulted in additional narcotics being recovered. Recovered narcotics included nearly two pounds of methamphetamine, and numerous quantities of heroin, crack cocaine, cocaine powder, LSD, mushrooms and large quantities of control prescription medications.
A records check revealed Ulrich is currently on probation in San Bernardino County for fraud. Reynolds is a convicted felon and prohibited from possessing firearms. Both Ulrich and Reynolds were booked at the High Desert Detention Center in Adelanto. Ulrich was booked on HS11379 – Transportation of a controlled substance. Her bail is set at $50,000. Reynolds was booked on HS11370.1- Possession of a controlled substance and load firearm. His bail is set at $250,000. Both Ulrich and Reynolds are due in court on July 27, 2018.
Refer: Deputies John Walsh and Deputy John Flores
Station: Apple Valley Police Department
Phone No. 760-240-7400
Case No. 181803832
JOHN McMAHON, Sheriff-Coroner
San Bernardino County Sheriff-Coroner Department