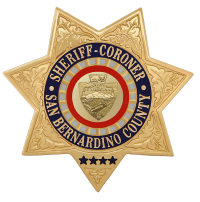 San Bernardino County Sheriff's Department
Press Release
DATE/TIME: January 3, 2017/6:19 p.m.
INCIDENT: Two arrested after serving a Search Warrant at an Apple Valley Residence
LOCATION: 13100 block of Topsanna Road, Apple Valley
SUSPECT(S): WENDY PEDEN, AGE 41 a resident of Apple Valley
GABRIEL CURIEL, AGE 30 a resident of Victorville
Summary
On December 26, 2016, at approximately 7:30 p.m. a probation check was conducted on Gabriel Curiel's residence in the 11800 block of Alana Way in Victorville. During the search, a stolen vehicle originally reported out of Hesperia was located.
After further investigation, the Hesperia Gang Team in cooperation with San Bernardino County Probation served a search warrant at a residence in Apple Valley that Curiel is known to frequent. At the residence in the 13100 block of Topsanna Road in the Town of Apple Valley, Deputies located additional evidence linking Curiel and Wendy Peden to the vehicle theft. Curiel and Peden were not at the location at the time of the search warrant was served, but were later located and detained during a traffic stop in the area.
Both Curiel and Peden were taken into custody without incident and booked into HDDC. Curiel and Peden were booked for HS 11378- Possession of a Controlled Substance for Sale, HS 11379- Transportation of a Controlled Substance, PC 30305(a)(1)- Felon in Possession of Ammunition, PC496D(a)- Possession of a Stolen Vehicle, and Curiel was also booked for an outstanding warrant.
Deputies discovered Gabriel Curiel is on supervised probation for VC 2800.2(a), felony evading a police officer as a result of California Assembly Bill 109. As part of Governor Jerry Brown's Realignment Plan, or Assembly Bill 109.
As part of Governor Jerry Brown's Realignment Plan, or Assembly Bill 109, to comply with a U.S. Supreme Court decision requiring the state to lower its prison population by 30,000; offenders with non-violent, non-sexual and non-serious convictions will serve shortened sentences in county jails and be placed on local supervision through county probation.
Refer: Jackie Chambers, Media Relations
Station: Hesperia
Phone No. 760-947-1549
Case No.191700075
John McMahon, Sheriff-Coroner
San Bernardino County Sheriff-Coroner Department
Sheriff's Public Affairs Division
655 E. Third Street
San Bernardino, California 92415-0061
Telephone: (909) 387-3700