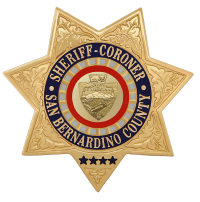 San Bernardino County Sheriff's Department
Press Release
DATE/TIME: December 28, 2017, at about 7:00 a.m.
INCIDENT: Residential Robbery
LOCATION: 14000 block of Navajo Road, Apple Valley
VICTIM: Confidential
SUSPECTS: Steven Baird, 39 years old, resident of Apple Valley
Joseph Canum, 20 years old, resident of Apple Valley
Rahif Sanam, 24 years old, resident of Apple Valley
Summary
On Thursday, December 28, 2017, at about 7:00 a.m., the victim reported three subjects forced their way into his residence and stole property, including several rifles and ammunition. The suspects also stole his vehicle and left, however one may have remained in the residence. The victim escaped, and notified authorities. Deputies responded to the residence and subsequently contacted Steven Baird inside and detained him. A short time later deputies located the victim's stolen vehicle near the 12000 block of Algonquin. Deputies conducted a traffic stop and found the vehicle was occupied by two subjects, Joseph Canum and Rahif Sanam. Deputies located several rifles and thousands of rounds of ammunition inside the stolen vehicle.
Deputies determined the weapons recovered were indeed those stolen from the victim and all property taken during the robbery was recovered by the deputies. Steven Baird, Joseph and Rahif Sanam were all positively identified and arrested. All are gang members and Baird is also on Probation. They were booked at High Desert Detention Center for Residential Robbery, Criminal Threats and Gang Enhancements with bail set at $200,000 each.
All weapons recovered were taken as evidence.
The investigation is ongoing and anyone with information regarding this case is urged to contact Deputy Peters or Sergeant Evans at the Apple Valley Station.
Photo available at: https://local.nixle.com/alert/6325551/
Refer: Sergeant Evans or Deputy Peters
Station: Apple Valley
Phone No. (760) 240-7400
Case No. 181706964
John McMahon, Sheriff-Coroner
San Bernardino County Sheriff-Coroner Department
Sheriff's Public Affairs Division
655 E. Third Street
San Bernardino, California 92415-0061
Telephone: (909) 387-3700