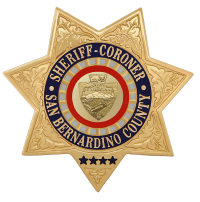 San Bernardino County Sheriff's Department
Press Release
DATE/TIME: December 28, 2017 / 10:52 a.m.
INCIDENT: Shooting
LOCATION: 13800 block Kiowa Road Apple Valley
VICTIM: 47-year-old Hispanic male
Summary
On Thursday, December 28, 2017 at 10:52 a.m., Sheriff's dispatch received a report of a shooting at a residence on the 13800 block of Kiowa Road. Deputies responded and found a Hispanic male adult lying on his back on the driveway in front of the residence with an apparent gunshot wound to his head with significant blood loss. Despite the injury, the victim was alert and responsive to questions. The victim was treated on scene by members of the Apple Valley Fire Protection District and transported by an American Medical Response ambulance to St. Mary- St. Joseph Hospital. He was later flown to Loma Linda University Hospital and listed in critical condition.
Detectives served a search warrant to collect evidence and interviewed the occupants of the residence. At the conclusion of the search and after multiple interviews, detectives do not believe there are any outstanding suspects who pose a threat to public safety. No arrests have been made and the investigation as to a motive and sequence of events leading up to the shooting is ongoing. The victim remains in critical condition and is being treated by medical staff.
Anyone who has additional information is asked to contact the Apple Valley Police Department at (760)240-7400.
Refer: Detective John Andersen
Station: Apple Valley Station – Detective Division
Phone No. (760)240-7400
Case No. 181706968
John McMahon, Sheriff-Coroner
San Bernardino County Sheriff-Coroner Department
Sheriff's Public Affairs Division
655 E. Third Street
San Bernardino, California 92415-0061
Telephone: (909) 387-3700