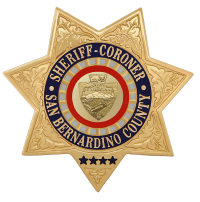 San Bernardino County Sheriff's Department
Press Release
DATE/TIME: January 21, 2017 / 10:32 am
INCIDENT: PC 245 – Assault with a Deadly Weapon
LOCATION: Webster Road and Soapmine Road, Barstow
SUSPECT(S): Joseph Friend, 45 years old, resident of Barstow.
VICTIM(S): Two victims – Confidential
Summary
On January 21, 2017, at about 6:00 am, the suspect, Joseph Friend went to the residence of victim #1 on Webster Road, who he knew personally and the two of them got into an argument. During the argument Joseph punched victim #1 and brandished a handgun. Joseph pointed the gun at victim #1's face while making threats of shooting him. He fired multiple shots into the floor of victim #1's residence before leaving the location. Joseph drove to a nearby rock quarry on Soapmine Road and confronted victim #2 at his residence, who he also knew personally. Joseph again brandished a handgun and pointed it at victim #2 as he threatened him. During a brief struggle, victim #2 was able to take the gun away from Joseph and forced Joseph to leave the location. The Sheriff's Department and Barstow Police Department were notified of the incidents and they responded to the area. Deputies and officers contacted both victims and retrieved the handgun Joseph used from victim #2. After receiving the details of both incidents, deputies and Barstow police officers contacted Joseph at his residence on Webster Road. Joseph was arrested without further incident. Joseph admitted to being under the influence of both alcohol and methamphetamine. A small amount of methamphetamine was located at Joseph's residence. Neither victim desired medical treatment. Joseph Friend was transported to the High Desert Detention Center, where he was booked for Assault with a Deadly Weapon, Criminal Threats and Burglary.
Anyone with additional information regarding this case can contact Deputy Daniel Evans or Sergeant Anthony Padfield at the Barstow Sheriff's Station.
Refer:Deputy Daniel Evans or Sergeant Anthony Padfield
Station:Barstow Station
Phone No.(760) 256-4838
Case No.081700109
John McMahon, Sheriff-Coroner
San Bernardino County Sheriff-Coroner Department
Sheriff's Public Affairs Division
655 E. Third Street
San Bernardino, California 92415-0061
Telephone: (909) 387-3700