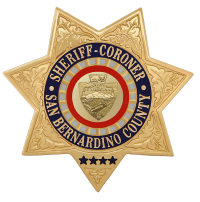 San Bernardino County Sheriff's Department
Press Release
DATE/TIME:05/23/17, 2:18 p.m.
INCIDENT: Bomb Threat at Elementary School is Unfounded LOCATION: Baldwin Lane Elementary School, Sugarloaf SUSPECT:Unknown
Summary
On May 23, 2017, at 2:18 p.m., deputies from the Big Bear Sheriff's Station responded to a reported bomb threat at Baldwin Lane Elementary School in Sugarloaf. School officials advised Sheriff's Dispatch that they received a call at approximately 2:10 p.m. from what sounded like a male subject trying to disguise his voice, saying that bombs had been planted in classrooms. Classes were in session at the time the threat was made, and school officials worked quickly to evacuate approximately 400 students and faculty members to the parking lot and outlying playground.
Multiple patrol units responded to the call for service and deputies worked as a team to conduct a systematic and thorough search of the inside and outside of the school. At approximately 3:20 p.m. a sweep of the entire premises was concluded, and deputies found no suspicious persons or packages at the school.    Anyone having information as to the identity of the caller is requested to contact the Big Bear Sheriff's Station at (909) 866-0100. Reports can also be made anonymously by calling WE-TIP at (800) 78-CRIME or online at www.wetip.com.    Refer: Tiffany Swantek, Media Relations Station: Big Bear Sheriff's Station Phone No.(909) 866-0100 Case No.BB171430024
John McMahon, Sheriff-Coroner
San Bernardino County Sheriff-Coroner Department
Sheriff's Public Affairs Division
655 E. Third Street
San Bernardino, California 92415-0061
Telephone: (909) 387-3700