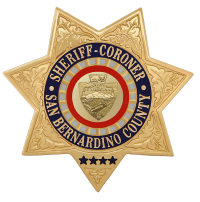 San Bernardino County Sheriff's Department
Press Release
DATE/TIME: Saturday, April 1, 201710:00 p.m.
INCIDENT: Burglary, Sexual Battery, False Imprisonment, Elder Abuse
LOCATION: Big Bear Lake
SUSPECT: Cody Lynn Mortensen, 21 years old, Big Bear Lake
VICTIM(S): Confidential females – 60-year-old and 13-year-old
Summary
On Saturday, April 1, 2017 at 10:00 p.m. deputies responded to a residence in Big Bear Lake reference an unknown subject entering the home. The subject entered the residence and contacted the homeowners 13 year old granddaughter. The young victim told her grandmother that an unknown man was in the living room. The victim confronted the suspect in the living room telling him to leave, but he attempted to push his way past the victim and get to the bedroom where the 13 year old girl was hiding. The suspect struggled with the victim, and the victim fought(using her cane) to keep him from getting to her granddaughter. The victim continued to fight with the suspect, and at one point he sexually battered her. The victim broke free momentarily, but then fell down and the suspect continued to hit her. As the fight continued, deputies arrived on scene and took the suspect into custody. 
  
Deputies identified the suspect as Cody Mortensen. During the investigation, deputies learned Mortensen was looking for his girlfriend and thought she was inside the victims home.
  
Mortensen was booked at West Valley Detention Center with bail set at $125,000. He is scheduled for arraignment on Tuesday, April 4, 2017 in San Bernardino Superior Court.
  
Anyone with information related to this investigation is urged to contact the Big Bear Sheriff's Station at (909)866-0100.
  
Station:Big Bear Station
Phone No.(909)866-0100
Case No.161700381
John McMahon, Sheriff-Coroner
San Bernardino County Sheriff-Coroner Department
Sheriff's Public Affairs Division
655 E. Third Street
San Bernardino, California 92415-0061
Telephone: (909) 387-3700