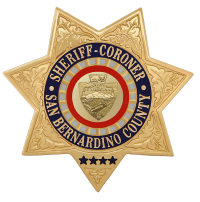 San Bernardino County Sheriff's Department
Press Release
DATE/TIME: July 13, 2017 / 10:32 a.m.
INCIDENT: Cyber Tip Leads to Arrest for Child Pornography
LOCATION: 900 Block N. Tinkerbell Ave., Big Bear City
SUSPECT: Andrew Legner, 25-year-old, resident of Big Bear City
Summary
Shortly after 10:30 a.m. on July 13, 2017, detectives and deputies of the Big Bear Sheriff's Station executed a search warrant at a residence in the 900 block of N. Tinkerbell Avenue in Big Bear City. The warrant was obtained as part of an ongoing investigation in which detectives determined that 25-year-old Andrew Legner was in possession of child pornography.
The Detective Bureau of the Big Bear Sheriff's Station initially received a Cyber Tip from the National Center for Missing & Exploited Children, including an Internet Protocol (IP) address. Based on the information that was provided, a search warrant was previously obtained to determine Internet activity from that IP address. Detectives discovered numerous photographs depicting children under the age of 18 in a sexual nature being stored by a Cloud storage provider for the IP address. As a result of today's search, additional child pornography was found, and electronic storage devices that were in Legner's possession were seized for forensic analysis.
Suspect Andrew Legner was taken into custody without incident and booked into the Big Bear Jail on felony charges of Possession of Obscene Matter Depicting a Minor. Legner remains in custody without the possibility of bail, pending court procedures. An arraignment hearing in this matter is scheduled for July 17, 2017 in San Bernardino County Superior Court.
Refer: Det. Eric Ogaz
Station: Big Bear Sheriff's Station
Phone No. (909) 866-0100
Case No. 061700646
John McMahon, Sheriff-Coroner
San Bernardino County Sheriff-Coroner Department
Sheriff's Public Affairs Division
655 E. Third Street
San Bernardino, California 92415-0061
Telephone: (909) 387-3700