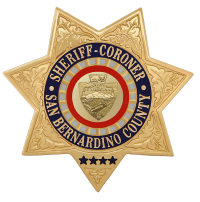 San Bernardino County Sheriff's Department
Press Release
DATE/TIME:05/10/17 11:32 a.m.
INCIDENT:Three Felony Arrests Following Conspiracy and Home Invasion Robbery
LOCATION: 500 Block of Irving Way, Big Bear City
SUSPECT:Trent Coursey, 22-year-old WMA, Transient
17-year-old WMJ, Resident of Big Bear City
River Harp, 19-year-old WMA, Resident of Big Bear City
Summary
Shortly after 11:30 a.m. on May 10, 2017, deputies of the Big Bear Sheriff's Station responded to a report of a physical assault near the intersection of Mt. Doble Drive and Big Bear Blvd. Upon arrival, deputies found a male subject with injuries, including lacerations to his extremities, swollen eyes, and a bloody nose. Through investigation, it was discovered that three suspects entered the victim's nearby residence in the 500 block of Irving Way in Big Bear City. One of the suspects assaulted the victim, stole his personal property, and all three fled the scene.
Deputies conducted a check of the area and performed a traffic stop on three males in a vehicle matching the suspects' descriptions on Big Bear Blvd. near the intersection of Georgia Street. The three males, identified as Trent Coursey, River Harp, and a 17-year-old juvenile were determined to be the suspects involved in the confrontation and robbery.
All three suspects were taken into custody without incident. Following further investigation, Trent Coursey was booked into the Big Bear Jail on a felony charge of Home Invasion Robbery. Coursey remains in custody in lieu of $200,000 bail. River Harp was booked into the Big Bear Jail on a felony charge of Conspiracy, with bail set at $25,000. Arraignment hearings for Coursey and Harp are scheduled for May 12 in San Bernardino County Superior Court. The juvenile was issued a citation for a felony charge of Conspiracy and released to his parents. The juvenile is scheduled to appear in Juvenile Court in San Bernardino on July 10th.
Refer:Tiffany Swantek, Media Relations
Station:Big Bear Sheriff's Station
Phone No.(909) 866-0100
Case No.061700428
John McMahon, Sheriff-Coroner
San Bernardino County Sheriff-Coroner Department
John McMahon, Sheriff-Coroner
San Bernardino County Sheriff-Coroner Department
Sheriff's Public Affairs Division
655 E. Third Street
San Bernardino, California 92415-0061
Telephone: (909) 387-3700