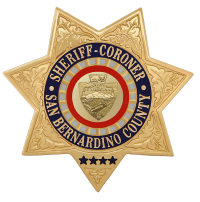 San Bernardino County Sheriff's Department
Press Release
DATE/TIME: Saturday, April 29, 2017 at 6:42 p.m.
INCIDENT: Death Investigation
LOCATION: Cougar Crest Trail, Big Bear
SUSPECT(S): None
VICTIM(S): Unknown
Summary
On Saturday, April 29, 2017, at approximately 6:42 p.m., hikers on Cougar Crest Trail located human skeletal remains a short distance off of the trail. Deputies from the Big Bear Sheriff's Station responded and confirmed the remains were human. On Sunday, April 30, 2017, investigators from the Sheriff's Specialized Investigations Homicide Detail and Coroner's Division responded to the location and recovered the skeletal remains. The identity of the remains, and a cause of death are subject of an ongoing investigation.
Anyone with information related to this investigation is asked to contact the Sheriff's Homicide Detail Detective Marc Goodwin or Sergeant Jason Radeleff at 909-387-3589. Anyone with information who would like to remain anonymous is encouraged to contact We-Tip at (800) 78-CRIME.
Refer: Detective Marc Goodwin
Station: Sheriff's Homicide
Phone No.(909) 387-3589
Case No.061700390
John McMahon, Sheriff-Coroner
San Bernardino County Sheriff-Coroner Department
Sheriff's Public Affairs Division
655 E. Third Street
San Bernardino, California 92415-0061
Telephone: (909) 387-3700