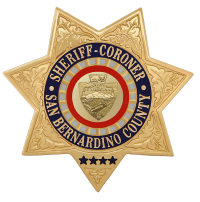 San Bernardino County Sheriff's Department
Press Release
DATE/TIME:April 12, 2017 4:20 p.m.
INCIDENT:Driver Arrested for Being Under the Influence Following Pursuit
LOCATION: Big Bear Lake, CA
SUSPECT:Michael James Davis, 33-year-old, Resident of Lucerne Valley
Summary
On April 12, 2017 at approximately 4:20 p.m., Deputy Hunsicker of the Big Bear Sheriff's Station observed a white Mustang with expired registration tags driving near the intersection of North Shore Drive and Division Drive in Big Bear City. Deputy Hunsicker attempted to conduct a traffic stop; however, the driver of the vehicle failed to yield and pull over. The driver continued on North Shore Drive, speeding up and passing vehicles over the double yellow line. A short pursuit ensued through the town of Fawnskin and down Highway 18 towards Running Springs.
Additional patrol units assisted with tracking the vehicle and preparation for potential deployment of spike strips at strategically staged locations. While in the Arctic Circle, the driver made a U-turn on Highway 18 and headed East towards the City of Big Bear Lake. During the pursuit, the driver reached speeds up to 80 mph and violated multiple California Vehicle Codes. To ensure public safety on the roadways, deputies continued to follow and monitor the vehicle. Deputy B. Francis assisted in the pursuit and stopped the vehicle near the intersection of Big Bear Blvd. and Jeffries Rd. using a successful Pursuit Intervention Technique (PIT).
The driver, identified as 33-year-old Michael Davis, was taken into custody without further incident. Davis was found to have alcohol in his vehicle and was determined to be under the influence. Davis was booked into the Big Bear Jail on felony charges of evading a peace officer and disregard for public safety, and a misdemeanor charge of driving under the influence of alcohol or drugs. A records check confirmed that Davis was on Post Release Community Supervision with San Bernardino County Sheriff's Department for a previous criminal violation.
Davis remains in custody at the Big Bear Jail without the possibility of bail. An arraignment hearing in this matter has been set for April 14, 2017 in San Bernardino County Superior Court.
Refer:Tiffany Swantek, PIO
Station: Big Bear Sheriff's Station
Phone No.(909) 866-0100
Case No. 061700331
John McMahon, Sheriff-Coroner
San Bernardino County Sheriff-Coroner Department
Sheriff's Public Affairs Division
655 E. Third Street
San Bernardino, California 92415-0061
Telephone: (909) 387-3700