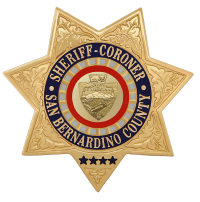 San Bernardino County Sheriff's Department
Press Release
DATE/TIME: Wednesday, October 11, 2017 8:12 p.m.
INCIDENT: Hoist rescue
LOCATION: Castle Rock, Big Bear Lake
VICTIM: 17-year-old male from Apple Valley
Summary
On Wednesday, October 11, 2017, at approximately 8:12 p.m. a San Bernardino County Sheriff's helicopter (40King1), with crew of Pilot Deputy Doug Brimmer, Crew Chief Sergeant San Futscher and Tactical Flight Officer Corporal Ed Leon, responded to the Castle Rock area reference a hiker who slid off a large rock and onto a cliff. The hiker was stuck on the cliff and was unable to get to safety. The crew of 40King1 located the hiker using GPS coordinates through a friend's cell phone.
The crew determined that a night vision hoist rescue was needed to get the hiker off the steep cliff. Sgt. Futscher lowered Cpl. Leon down to the hiker using the helicopter's external hoist. Once on the ground, Leon placed the victim into a rescue harness and he was hoisted up to the helicopter. The victim was flown to Big Bear Airport, treated by San Bernardino County Fire personnel for complaints of pain and released to his guardian.
Hikers are encouraged to always be prepared when hiking in the mountains, higher altitudes or the high desert. No matter the weather, anticipate the unexpected and pack the appropriate clothes for snow, cold and rain.
Refer: Deputy Doug Brimmer
Station: Emergency Operations Division- Aviation Unit
Case #: BBR1700922
Phone No. (909)252-4100
John McMahon, Sheriff-Coroner
San Bernardino County Sheriff-Coroner Department
Sheriff's Public Affairs Division
655 E. Third Street
San Bernardino, California 92415-0061
Telephone: (909) 387-3700