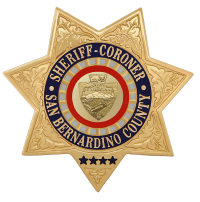 San Bernardino County Sheriff's Department
Press Release
DATE: February 1, 2017
REF: ICE ON ROADS CAUSING HAZARDOUS DRIVING CONDITIONS; MULTIPLE VEHICLE ROLLOVERS AND COLLISIONS
Summary
Recent storms have brought record amounts of snow to mountain communities during the month of January. Now with warmer temperatures during the day and below freezing temperatures at night, mountain roads have become extremely icy, especially during early morning hours and in shaded areas. Motorists are advised to use an abundance of caution and watch for black ice.
The Big Bear Sheriff's Station and California Highway Patrol have responded to numerous vehicle rollovers and traffic collisions just today. Below are some recommended safety tips for driving on icy road conditions:  
Reduce your speed: Higher speeds make it both easy to lose control and difficult to stop. If you're fishtailing or sliding at all, it means you are driving too fast for the conditions.
Go easy on your brakes: Brake application is a common cause of sliding on ice that may result in a loss of control. Even ABS (antilock brakes) can lock up your wheels on ice.
Turn into a slide: Most high speed slides are difficult to successfully correct. If you're caught off guard and begin to slide, turn your wheels in the direction that the rear of your car is sliding, but do not steer too far – you don't want to overcorrect and cause your vehicle to slide in the other direction.
Don't stop for accidents on an icy roadway: Being a Good Samaritan is a noble thing, but on an icy road it can cause more problems than it solves. Stopping on the side of an icy highway can cause passing drivers to brake and lose control. The best thing you can do is contact local authorities who are equipped to safely block the road or divert traffic.
   For more tips on driving safely in icy conditions, visit www.icyroadsafety.com.
John McMahon, Sheriff-Coroner
San Bernardino County Sheriff-Coroner Department
Sheriff's Public Affairs Division
655 E. Third Street
San Bernardino, California 92415-0061
Telephone: (909) 387-3700