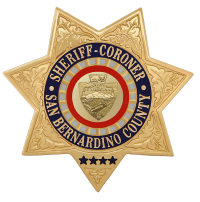 San Bernardino County Sheriff's Department
Press Release
DATE/TIME: Tuesday, August 22, 2017/7:05 p.m.
INCIDENT: Robbery and Assault with a Deadly Weapon
LOCATION: Big Bear Yellow Post Campsite 28 (Forest Service Road 2N10), Big Bear
SUSPECT(S): Jerry Walker, 23-year-old, Transient
Ariq Carrigan, 23-year-old, Transient
VICTIM: Christopher Huebner, 35-year- old
Summary
On Tuesday, August 22, 2017 at 7:05 pm, deputies from the Big Bear Sheriff's Station were called to Big Bear Yellow Post Campsite 28 regarding an assault that took place at that location. When deputies arrived, the victim, Christopher Huebner, reported he befriended three subjects while camping in the forested area. During the day, the subjects asked Huebner to take them into Big Bear to run errands and Huebner agreed. While driving back to their campsite from running errands, one of the subjects used a weapon to strangle Huebner while one of the other subjects repeatedly punched Huebner in the face. The third subject Huebner gave a ride to was dropped off prior to the assault. During the assault, the two suspects stole Huebner's wallet and then fled the scene on foot. Huebner sustained injuries to his face and neck as a result of the unprovoked attack.
Through investigation, deputies were able to locate the suspects at Yellow Post Campsite 25, where they were taken into custody without incident. The suspects were identified as Jerry Walker and Ariq Carrigan. Suspects Walker and Carrigan were booked into the Big Bear Jail on felony charges of robbery and assault with a deadly weapon. Walker and Carrigan remain in custody at West Valley Detention Center in lieu of $100,000 bail each. Arraignment hearings in this matter are set for August 24, 2017 in San Bernardino County Superior Court.
Anyone having any information regarding this investigation is urged to call the Detective Bureau of the Big Bear Sheriff's Station at (909) 866-0100. Callers wishing to remain anonymous can contact the We-Tip Hotline at 1-800-78-CRIME (27463) or online at www.wetip.com.
Refer: Deputy Hernandez or Sergeant Walker
Station: Big Bear Sheriff's Station
Phone No. (909)866-0100
Case No. 061700776
John McMahon, Sheriff-Coroner
San Bernardino County Sheriff-Coroner Department
Sheriff's Public Affairs Division
655 E. Third Street
San Bernardino, California 92415-0061
Telephone: (909) 387-3700