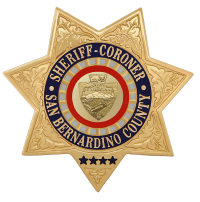 San Bernardino County Sheriff's Department
Press Release
DATE/TIME: November 22, 2017/ 3:45 a.m.
INCIDENT: Assault With a Deadly Weapon
LOCATION: 9900 block of Bloomington Avenue, Bloomington
SUSPECT: Ezequiel Morales, 50-year-old resident of Bloomington
Summary
On Wednesday, November 22, 2017 at approximately 3:45 a.m., the victim left her residence for work. As she approached the Olive Street and Bloomington Avenue intersection, her husband, Ezequiel Morales drove his truck in front of her vehicle forcing her to stop. Morales exited his truck, approached the victim's vehicle and yelled at her as he broke off the windshield wipers. The victim drove away and Morales caught up to her at Cedar Avenue and Valley Boulevard where he rammed the victim's vehicle from behind with his truck. The victim drove off and entered the west bound Interstate 10 freeway. Morales followed the victim and forced her to pull over by attempting to ram her vehicle again. Morales jumped out of his truck, approached the victim's vehicle and pounded on the driver's door window and the victim drove away and called 911.
Deputies contacted Morales at his residence and arrested him for Assault with a Deadly Weapon. He was subsequently booked at the West Valley Detention Center.
Anyone with additional information regarding this case is urged contact the Fontana Station, Deputy R. Torres at (909)356-6767.
Refer: Deputy R. Torres
Station: Fontana Sheriff's Station
Phone No. (909)356-6767
Case No. 031703234
John McMahon, Sheriff-Coroner
San Bernardino County Sheriff-Coroner Department
Sheriff's Public Affairs Division
655 E. Third Street
San Bernardino, California 92415-0061
Telephone: (909) 387-3700