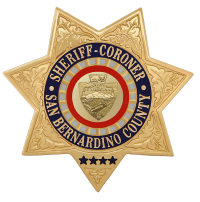 San Bernardino County Sheriff's Department
Press Release
DATE/TIME: January 28, 2017 / 10:50 p.m.
INCIDENT: PC 182 Conspiracy to Commit Burglary
LOCATION: 23000 block of Westwood Street, Grand Terrace, Ca.
SUSPECT(S): Trevon Miller, 25 years old, resident of Rialto
Kevin Henderson, 22 years old, resident of Rialto
Cedric Walker, 23 years old, resident of San Bernardino
Summary
On January 28, 2017 at approximately 10:50 p.m., Deputy A. Alcala, from the Sheriff's Central Station, Grand Terrace Patrol, responded to an area check for a suspicious person, wearing dark clothing and standing in front of a residence. Alcala arrived on scene and observed a dark blue sedan, occupied by three unidentified subjects, pull into the victim's driveway with the head lights off. A short time later, the vehicle began to leave the area and Alcala conducted a traffic stop due to the suspicious circumstances. The driver was identified as Trevon Miller, who is currently on CDC Parole for PC 212.5 Home Invasion Robbery. The passengers were identified as Cedric Walker, who is currently on CDC Parole for PC 459 Burglary and Kevin Henderson, who is currently on felony probation for PC 594 Felony Vandalism. Alcala conducted the investigation and discovered the victim did not know the subjects and they did not belong on the property. At the conclusion of the investigation, Miller, Henderson and Walker were all arrested for PC 182 Conspiracy to commit Burglary, PC 3056 Parole violation and Probation violation. They were all booked into Central Detention Center.
Anyone with information regarding this incident is urged to contact Central station at (909)387-3545. Callers wishing to remain anonymous are urged to call We-Tip Hotline at 1-800-78-CRIME(27463) or you may leave information on the website at www.wetip.com.
Refer:Deputy A. Alcala
Station:Central Station
Phone No.(909)387-3545
Case No.121700090
John McMahon, Sheriff-Coroner
San Bernardino County Sheriff-Coroner Department
Sheriff's Public Affairs Division
655 E. Third Street
San Bernardino, California 92415-0061
Telephone: (909) 387-3700