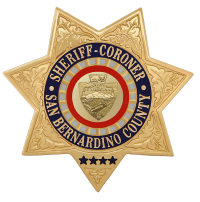 San Bernardino County Sheriff's Department
Press Release
DATE/TIME: January 11, 2017 / 8:36 a.m.
INCIDENT: PC 422 (a), Criminal Threats
                   PC 422.6 (a), Hate Crimes
LOCATION: 25000 Block of Barton Road, Loma Linda
SUSPECT: Robert Harold Watts, 49 Years old, Transient in Loma Linda
VICTIM: Confidential
Summary
On January 11, 2017 at 8:36 a.m., Deputies B. Ortiz and L. Sandoval responded to a trespassing call in the 25000 Block of Barton Road. The suspect refused to leave the premises after the owner made numerous requests for him to leave. The suspect left after he observed deputies arriving at the location. Deputies identified the suspect as a local transient, Robert Watts.
As Watts was escorted to the patrol unit, he yelled out loudly and aggressively to the victim making reference to her race. The victim felt intimidated by Watts' actions. Deputies continued their investigation and discovered Watts had made threats to the victim and the threats were discriminatory in nature and referenced the victim's race several times. Watts was arrested and booked into the Central Detention Center.
Anyone with information regarding this incident is urged to contact Central Station at (909)387-3545. Callers wishing to remain anonymous are urged to call the We-Tip Hotline at 1-800-78-CRIME(27463) or you may leave information on their website at www.wetip.com.
Refer:Deputy  B.Ortiz
Station: Central Station
Phone No.(909)387-3545
Case No.151700065
John McMahon, Sheriff-Coroner
San Bernardino County Sheriff-Coroner Department
Sheriff's Public Affairs Division
655 E. Third Street
San Bernardino, California 92415-0061
Telephone: (909) 387-3700