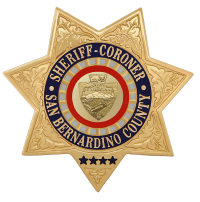 San Bernardino County Sheriff's Department
Press Release
DATE/TIME: May 23, 2017
INCIDENT: PC 209, Kidnap For Rape
PC PC 288(a), Lewd Acts With A Child
LOCATION: Confidential Address, Grand Terrace, CA
SUSPECT(S): Ubler Garcia, 28-year-old male, resident of Mentone; Briam Lasaro Quintanillagarcia, 19-year-old male, resident of San Bernardino
VICTIM(S): Confidential Persons
Summary
On May 23, 2017, Sheriff's deputies assigned to the contract city of Grand Terrace responded to a call regarding a sex crime with a child. Information was gathered from two juvenile victims regarding a crime that involved them being kidnaped and raped. During the investigation deputies identifed Ubler Garcia and Briam Lasaro Quintanillagarcia as the suspects in this case.
The suspects used a social media application to to lure the victims to meet them. After meeting, the suspects kidnapped the victims and took them to a secluded area where both victims were raped by the suspects.
As the investigation continued, Ortiz obtained arrest warrants for the suspects, who were located and arrested without incident. Briam Lasaro Quintanillagarcia was arrested on November 2, 2017, and booked into West Valley Detention Center and is being held on an $800,000.00 bond. Ubler Garcia was arrested on November 7, 2017, and booked at Central Detention Center, and is also being held on an $800,0000.00 bond.
These suspects may have met other juveniles using social media and may have used a nickname of "Webs." Photographs of the suspects are attached to this press release. If the public suspects these persons have committed a crime against them they are urged to contact the Sheriffs Department for assistance.
Refer: Deputy B.Ortiz
Station: Central Station
Phone No. 909-387-3545
Case No. 121700488
John McMahon, Sheriff-Coroner
San Bernardino County Sheriff-Coroner Department
Sheriff's Public Affairs Division
655 E. Third Street
San Bernardino, California 92415-0061
Telephone: (909) 387-3700