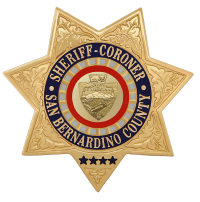 San Bernardino County Sheriff's Department
Press Release
DATE/TIME: November 2, 2017 9:50 p.m.
INCIDENT: Felon in Possession of a Loaded Firearm, Discharging Firearm in Negligent Manner
LOCATION: 21st and Orange in the City of San Bernardino
SUSPECT(S): Suspect # 1: Ronny Garcia, 27-year-old, resident of Rancho Cucamonga
Suspect # 2: 16-Year-Old Male
Summary
On Thursday, November 2, 2017 at 9:50 p.m. Deputy Ryan Rappisi from Central Station was traveling on Highland Avenue at Orange Street when he heard gun shots coming from south of his location. Rappisi traveled south on Orange Street and then observed a gray Honda Civic leaving the area at a high rate of speed. Rappisi conducted a traffic stop on the vehicle as it pulled into a gas station. The driver, Ronny Garcia was found to be on probation (AB109) for being a Felon in Possession of a Firearm. The juvenile passenger was found to be on Felony Probation and had a NO-BAIL warrant for being A.W.O.L. from Boys Republic, a residential placement home for probationers in Riverside County. Deputies located .22 caliber shell casings, ammunition and a holster inside the vehicle. Deputies conducted a search of the area where the vehicle was first observed by Rappisi and located two .22 caliber handguns discarded on the side of the roadway.
Garcia was booked into Central Detention Center and the Juvenile was booked into Juvenile Hall.
Anyone with information regarding this incident is urged to contact Central Station at (909)387-3545. Callers wishing to remain anonymous are urged to call We-Tip Hot line at 1-800-78-CRIME(27463) or you may leave information on the website at www.wetip.com.
Refer: Deputy Rappisi
Station: Central Patrol
Case #: 771701274
Phone No. (909) 387-3545
John McMahon, Sheriff-Coroner
San Bernardino County Sheriff-Coroner Department
Sheriff's Public Affairs Division
655 E. Third Street
San Bernardino, California 92415-0061
Telephone: (909) 387-3700