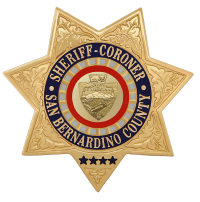 San Bernardino County Sheriff's Department
Press Release
DATE/TIME: January 7, 2017 / 10:01 p.m.
INCIDENT: PC 496D(A) Possession of a Stolen Vehicle
LOCATION: Dwight Way and Pacific Street, San Bernardino
SUSPECT: Andrew Morales, age 27 a resident of Highland
VICTIM: Confidential
Summary
On January 7, 2017, at approximatey 10:01 p.m., Deputy S. Tabor, from the Sheriff's Central Station observed a Dodge truck, which was reported stolen out of the city of San Bernardino, driving north on Dwight Way approaching Pacific Street. Tabor initiated a traffic stop and the vehicle yielded. Tabor conducted a felony traffic stop and took the driver into custody. The driver was identified as Andrew Morales who is currently on felony probation for PC 459 Commercial Burglary out of San Bernardino. Morales was arrested and booked into Central Detention Center for PC 496D(A) Possession of a Stolen Vehicle.
Anyone with information regarding this incident is urged to contact Central station at (909)387-3545. Callers wishing to remain anonymous are urged to call We-Tip Hotlineat 1-800-78-CRIME(27463) or you mayleave information on the website at www.wetip.com.
Refer:Deputy S. Tabor
Station:Central Station
Phone No.(909)387-3545
Case No.011700067
John McMahon, Sheriff-Coroner
San Bernardino County Sheriff-Coroner Department
Sheriff's Public Affairs Division
655 E. Third Street
San Bernardino, California 92415-0061
Telephone: (909) 387-3700