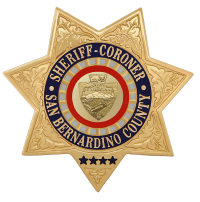 San Bernardino County Sheriff's Department
Press Release
DATE/TIME: January 4, 2017 / 11:29 a.m.
INCIDENT: PC 459 Residential Burglary
VC 10851(a) Grand Theft Automobile
PC 496D(A), Possession of a Stolen Vehicle
LOCATION: 18000 Block of Cajon Blvd., San Bernardino
SUSPECT(S): Leovani DeLaCerra, age 19 a resident of Devore
VICTIM(S): Confidential
Summary
On January 4, 2017, at approximately 11:29 a.m., Deputy B.Ortiz, from the Sheriff's Central Station, responded to a residential burglary. Through investigation Ortiz learned that a male suspect, later identified as Leovani DeLaCerra, had burglarized the victim's residence while the victim and her daughter were home. DeLaCerra stole numerous items from the residence including vehicle keys. The victim managed to exit the residence in time to observe DeLaCerra driving away in her Chevy pick up truck.
Ortiz arrived on scene and began searching the area for the stolen vehicle. Ortiz located the stolen vehicle on Cajon Blvd. a short distance from the victim's residence. Ortiz initiated a felony traffic stop and took DeLaCerra into custody without incident. DeLaCerra was wearing the victim's boots and clothing when Ortiz contacted him. The vehicle and all the stolen property were returned to the victim. DeLaCerra was arrested and booked into the West Valley Detention Center for PC 459 Residential Burglary, VC 10851(a) Grand Theft Automobile and PC 496D(A) Possession of a Stolen Vehicle.
Anyone with information regarding this incident is urged to contact Central station at (909)387-3545. Callers wishing to remain anonymous are urged to call We-Tip Hotline at 1-800-78-CRIME(27463) or you may leave information on the website at www.wetip.com.
Refer:Deputy B.Ortiz
Station:Central Station
Phone No.909-387-3545
Case No.011700036
John McMahon, Sheriff-Coroner
San Bernardino County Sheriff-Coroner Department
Sheriff's Public Affairs Division
655 E. Third Street
San Bernardino, California 92415-0061
Telephone: (909) 387-3700