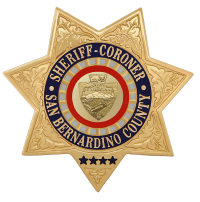 San Bernardino County Sheriff's Department
Press Release
DATE/TIME: December 30, 2017
INCIDENT: Possession of Stolen Vehicle, Possession of Stolen Property, Grand Theft, Identity Theft
LOCATION: Glen Helen Speedway
SUSPECT(S): Vincent Lewis, 29-year-old resident of Highland
Charles Finneran, 30-year-old resident of San Bernardino
Summary
On December 30, 2017, Deputy Kyle Lunde from the Central Station went to the Glen Helen Speedway for a report of a stolen mobile generator. The suspect fled with the generator driving an Off-Highway Utility Vehicle. Lunde learned the stolen generator was equipped with a GPS tracking device. Deputies Joshua Gile and David MC Dermott assisted Lunde in tracking the stolen generator to the 2100 block of Lugo Street in the city of San Bernardino.
Deputies saw Vincent Lewis and Charles Finneran standing next to a trailer with a Kawasaki Off Highway Utility vehicle on it. Deputies also saw the stolen generator and confirmed the Off-Highway Utility Vehicle was stolen. Lewis matched the description of the suspect captured on the video surveillance camera during the theft. The generator was recovered and returned to the victim.
Finneran was found to be on Felony Probation for Identity Theft. During a search of Finneran's residence, several identification cards belonging to other subjects were found along with other items related to identity theft crimes.
Anyone with information regarding this incident is urged to contact Central Station at (909)387-3545. Callers wishing to remain anonymous are urged to call We-Tip Hot line at 1-800-78-CRIME(27463) or you may leave information on www.wetip.com.
Refer: Deputy Kyle Lunde
Deputy Joshua Gile
Deputy David McDermott
Station: Central Patrol
Case #: 011703695
011703696
Phone No. (909) 387-3545
John McMahon, Sheriff-Coroner
San Bernardino County Sheriff-Coroner Department
Sheriff's Public Affairs Division
655 E. Third Street
San Bernardino, California 92415-0061
Telephone: (909) 387-3700