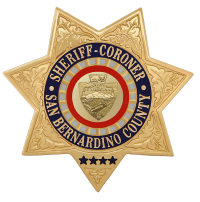 San Bernardino County Sheriff's Department
Press Release
DATE/TIME: September 30, 2017 at about 12:20 pm
INCIDENT: PC 29800, Felon Possesion Firearm
H&S 11370.1, Possession of Drugs while Armed
PC 496, Possession of Stolen Vehicle
PC 1203.2, Probation Violation
LOCATION: 1500 Block of E. Highland Ave., city of San Bernardino
SUSPECT: Noel Ochoa, 34-year-old male, resident of San Bernardino
VICTIM(S): Confidential
SUMMARY:
Summary
On Saturday, September 30th, deputies from the Central Patrol Station located a stolen 1993 Honda Accord in the parking lot of a restaurant. Deputies remained in the area until the occupants returned to the vehicle. The driver, Noel Ochoa, attempted to flee on foot, but injured his hand attempting to go over a chain link fence to the adjoining property. Ochoa was taken into custody without further incident. Ochoa had a No Bail warrant for a different possession of a stolen vehicle case. During a search of the stolen vehicle, a loaded 410 sawed off shotgun and a large quantity of methamphetamine was located in the trunk of the stolen vehicle.
Ochoa was arrested and transported to Arrowhead Regional Medical Center to for a pre-booking jail check for the injury to his hand. After treatment, Deputy Gile booked Ochoa into the Central Detention Center without incident. The registered owner of the vehicle was contacted and took possession of their vehicle.
Anyone with information regarding this investigation is urged to contact the San Bernardino County Sheriff's Department. Callers wishing to remain anonymous are urged to call the We-tip Hotline at 1-800-78-CRIME (27463) or you may leave information on the We-Tip Hotline at www.wetip.com.
Photo: www.nixle.us/9M4KP
Refer: Deputy J. Gile, K. Hogue, and M. Schegel
Station: Central Station
Phone No. (909) 387-3545
Case No. 011702808
John McMahon, Sheriff-Coroner
San Bernardino County Sheriff-Coroner Department
Sheriff's Public Affairs Division
655 E. Third Street
San Bernardino, California 92415-0061
Telephone: (909) 387-3700