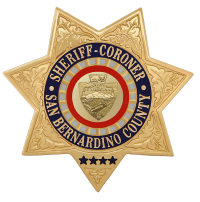 San Bernardino County Sheriff's Department
Press Release
Date/Time: Thursday, October 12th, 2017
Incident: Assault With A Deadly Weapon
Location: 13000 Block of Emerald Way, Chino Hills
Suspect: Eric Frazin, 31 years old, Chino Hills
Summary
On Thursday, October 12, 2017 at approximately 11:21 a.m., Chino Hills Deputies responded to the 13000 block of Emerald Way reference an assault with a deadly weapon investigation. Deputies discovered the suspect struck the victim several times on the head, with a skateboard. Deputies responded to the same location earlier in the day when the same suspect, identified as Eric Frazin, vandalized his neighbor's vehicle.
Upon arrival, deputies located the victim who was suffering from facial lacerations and head trauma. Eric Frazin fled the scene in his vehicle and after an area check was conducted, deputies were unable to locate Frazin or his vehicle. The victim was transported to an area hospital to be treated for his injuries.
At about 7:15 p.m., while conducting surveillance on Frazin's residence, deputies received information he was in the city of Pomona. Frazin was located and arrested for assault with a deadly weapon and booked at the West Valley Detention Center in Rancho Cucamonga.
Anyone with additional information is urged to call Sergeant Babel or the MET Team at the Chino Hills Police Department or WeTip at 1 (800) 78-CRIME or www.wetip.com.
John McMahon, Sheriff-Coroner
San Bernardino County Sheriff-Coroner Department
Sheriff's Public Affairs Division
655 E. Third Street
San Bernardino, California 92415-0061
Telephone: (909) 387-3700