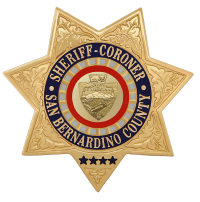 San Bernardino County Sheriff's Department
Press Release
Date/Time Occurred: May 1, 2017 1:05 p.m.
Incident: Attempted Burglary
Location: 13000 block of Gemstone Court
Victim: Zhang family
Suspect(s): Garret Rogers, 19 years old from Chino
Ruben Medivil, 19 years old from Chino
Roberto Alonso Salmon, 18 years old from Chino
Joaquin Leonardo Salmon Garcia, 20 years old from Chino Hills
17-year-old male juvenile from Chino
Summary
On Monday, May 1, 2017 at 1:05 p.m. the Zhang family was inside of their home when they heard
suspects access the balcony of their residence, which was located in their backyard. The suspects then attempted to enter the home through an upstairs door. Yan Zhang retrieved a handgun and confronted
the suspects. Zhang held the suspects at gunpoint while a neighbor called 911, and his wife kept the children safe.
Two of the suspects fled, but were captured nearby when Deputy Smith arrived on scene. Many of the surrounding neighbors assisted by providing information to the responding deputies. All five suspects
were taken into custody. Four of the suspects were booked into the West Valley Detention Center, and
the juvenile suspect was cite released to his parents.
Anyone with additional information reference this incident is urged to call the Chino Hills Police Department at (909) 364-2000. Callers wishing to remain anonymous may call WeTip at
(800) 78-CRIME.
San Bernardino County Sheriff's Department
Chino Hills Police/Sheriff's Station
909-364-2000
Case #221701495
Deputy Eileen Smith
John McMahon, Sheriff-Coroner
San Bernardino County Sheriff-Coroner Department
Sheriff's Public Affairs Division
655 E. Third Street
San Bernardino, California 92415-0061
Telephone: (909) 387-3700