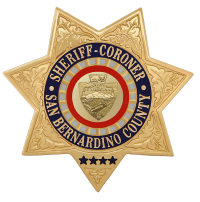 San Bernardino County Sheriff's Department
Press Release
Date/Time Occurred: Tuesday, August 22, 2017
Crime or Incident: PC 664/187 Attempt Murder / PC 422 Criminal Threats
Location: 15000 block of Ethel Street, Chino Hills
Victim(s): Confidential
Suspect: Robert Thomas Ramirez, age 49 a resident of Chino Hills
Summary
On Tuesday, August 22, 2017 at approximately 4:12 pm, Robert Thomas Ramirez was involved in a verbal argument with the victim in the backyard of a residence on the 15000 block of Ethel Street (Lower Los Serranos) in the city of Chino Hills. The argument escalated and turned physical. While on the ground, Ramirez drew an unknown sharpened object and began stabbing the victim. The victim sustained a puncture wound to his left triceps, forearms and multiple lacerations to his face and back. According to the victim, Ramirez threatened to kill him and believed he would follow through with his threat. Ramirez left the location on a bicycle prior to the deputies arrival.
Approximately one hour after the stabbing, the Chino Hills Police Multiple Enforcement Team (MET) located Ramirez in the parking lot of the Los Serrano's Country Club and a foot pursuit ensued through the golf course. Ramirez was apprehended and taken into custody without further incident. Ramirez was booked at West Valley Detention Center for Attempted Murder and Criminal Threats with a bail set at $1,075,000.00.
Anyone with additional information is urged to call the Chino Hills Police Department or WeTip at 1 (800) 78-CRIME.
SAN BERNARDINO COUNTY SHERIFF'S DEPARTMENT
Chino Hills Police Department
Deputy Mike Morales
909-364-2000 or 909-364-2030
Report Case #221702827
John McMahon, Sheriff-Coroner
San Bernardino County Sheriff-Coroner Department
Sheriff's Public Affairs Division
655 E. Third Street
San Bernardino, California 92415-0061
Telephone: (909) 387-3700