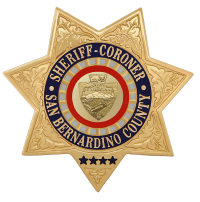 San Bernardino County Sheriff's Department
Press Release
Date/Time Occurred: Wednesday, December 20, 2017, at 6:29 pm
Incident: Fatal Traffic Collision
Location: Chino Hills Parkway/ Walnut Creek Drive
Driver: Felipe Rustia 74-year-old Chino Hills resident
Passenger: Noel Rustia 73-year-old Chino Hills resident
Vehicle: Honda Pilot SUV
Summary
On Wednesday, December 20, 2017, at approximately 6:29 pm, deputies from the Chino Hills Police Department responded to a single vehicle traffic collision at Chino Hills Parkway just south of Walnut Creek Drive. Upon arrival, deputies located a black Honda Pilot SUV, occupied by two persons, with major front-end damage in the southbound Chino Hills Parkway lanes. A downed tree was also blocking northbound and southbound lanes of Chino Hills Parkway. The driver sustained major injuries and was pronounced deceased on scene by emergency fire personnel. The passenger sustained minor injuries and was transported to a local area hospital for treatment.
Deputies requested the assistance of the Major Accident Investigation Team to conduct the investigation. Through investigation, deputies determined that the driver, Felipe Rustia, was traveling southbound on Chino Hills Driveway and after crossing Walnut Creek Drive, for an unknown reason, drove over the raised cement divider and collided into a large tree in the center divider green belt.
Chino Hills Parkway, between Grand Avenue and Walnut Creek Drive, was subsequently closed for several hours during the investigation. The cause of the collision is still under investigation.
Anyone with information regarding this traffic collision is asked to contact the Chino Hills Police Department (909) 364-2000.
Refer: M.A.I.T. Deputy D. Smith or Deputy A. Ortega
Station: Chino Hills Police Department
Phone No. 909-364-2000
Case No. 221704469
John McMahon, Sheriff-Coroner
San Bernardino County Sheriff-Coroner Department
Sheriff's Public Affairs Division
655 E. Third Street
San Bernardino, California 92415-0061
Telephone: (909) 387-3700