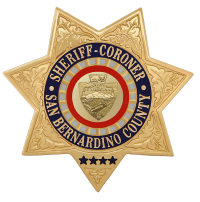 San Bernardino County Sheriff's Department
Press Release
DATE/TIME: Saturday, January 7, 2017 / 2:07 a.m.
INCIDENT: Fatal Traffic Collision
LOCATION: Chino Hills Parkway / Northbound on-ramp of SR 7, Chino Hills
INVOLVED PARTY/DRIVER: Thomas Contreras, age 63 a resident of Chino Hills, driving a black 1997 Chevrolet Tahoe.
VICTIM/PASSENGER: 53 year old male adult a resident of Chino Hills. Name withheld pending family notification.
Summary
On Saturday, January 7, 2017, at about 2:07 ours, Contreras was driving west on Chino Hills Parkway with two passengers inside his 1997 Chevrolet Tahoe. Once through the intersection of Ramona Avenue, the Tahoe crossed the double yellow line and continued west onto a raised concrete center median. The Tahoe continued west on the median for about 230 feet with no physical evidence of braking. The front of the Tahoe collided into a traffic signal pole at the intersection of SR 71 northbound on-ramp. The impact resulted in the death of the front passenger, and non-life threatening injuries to the rear passenger and Contreras who were transported to local hospitals.
Anyone who may have witnessed or has additional information regarding this collision is urged to contact the Chino Hills Police Department at (909) 364-2000. Callers wishing to remain anonymous are urged to contact the We-Tip Hotline at 1-800-78-CRIME (27463) or the website at www.wetip.com
Refer:Deputy Don Rusk / Deputy Peat Ortiz
Station:Chino Hills Station
Phone No.909-364-2000
Case No.221700081
John McMahon, Sheriff-Coroner
San Bernardino County Sheriff-Coroner Department
Sheriff's Public Affairs Division
655 E. Third Street
San Bernardino, California 92415-0061
Telephone: (909) 387-3700